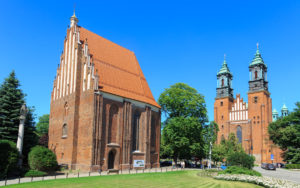 It is important to remember that Wielkopolska (Great Poland) was the first royal region of Poland, before the seat of Polish kings was transferred to Krakow.
During this tour we will take you to the picturesque Lednica Lake, upon which you will discover an island with the remnants of one of Poland's first dynastic castles. After Lednica you will visit the first ever capital of Poland, Gniezno, with its famous cathedral – a true gem of great artistic and symbolic value.
Another exciting attraction is Biskupin – a painstakingly reconstructed Iron Age village, excavated a few dozen kilometres east of Poznan on a marshy peninsula on Lake Biskupin. This lively place will give you an insight into what people's lives used to be like 2700 years ago.
On warmer days, you have the option of making the journey to Biskupin by narrow gauge railway, a unique landmark project. You will wend your way through beautiful rolling landscape, peppered with lakes and villages. This choo-choo train has no glass windows – and because it runs slowly, there is time for numerous butterflies to flutter their way through the cars.