Bustryk
This tiny village in Podhale is an ideal destination for active tourists. Its situation on Gubalowka Foothills will surely attract all mountain hiking and skiing enthusiasts.
Bustryk TOURISM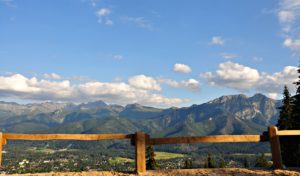 Bustryk is an ideal place for active visitors. In summer it encourages them to hike. There are several foot trails in Bustryk. The green one leads either to Zakopane or as far as to Spiš. It goes from Zakopianka (the Krakow–Zakopane route) valley to the highest-located village in Podhale, Zab. From there it goes down on the slopes of Gubalowka Foothills to Szaflary. The green trail is crossed by the red trail going from Szaflary to Bukowina-Podszkle on the Orawa and goes further east. While on the trail one may have an opportunity to see calcareous hills of the Pieniny Klippen Belt as well as old wooden Gorals' (people inhabiting the Podhale region) huts and Baroque Spiš churches. In the neighbourhood there is also a trail called the Pope's Route. The trail was established to commemorate the visit of Pope John Paul II in Podhale in 1997 and joins exactly these places which were visited by the pope that year.
In winter skiing enthusiasts may fulfil their passions on the ski slope located in the upper part of the village. Other ski slopes are situated in Zab (just 3 km away from Bustryk) or longer ones on Gubalowka. A great attraction in winter may be sleigh rides organised by Gorals.
GEOGRAPHY
Bustryk is a small village in the Podhale region, in the Lesser Poland Voivodeship, in Poronin Commune. The place is located on the slope of Gubalowka Foothills, at the altitude of 860 to 970 meters above the sea level.