Dzwinówek
Dziwnowek is a small resort, with a status of spa. A very attractive and wide beach as well as clean Baltic waters make Dziwnowek extremely popular both with Poles and foreigners.
Dzwinówek TOURISM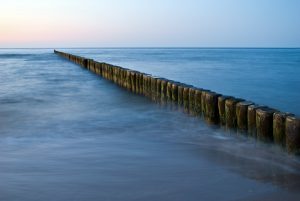 Dziwnowek is a health resort, which specializes in curing children with breathing problems. In the village there are some chloride-sodium waters of high mineralization, but they are not utilized.
Undoubtedly, the greatest attraction of Dziwnowek is a wide and sandy beach. The sea water in this region is considered the cleanest in the whole Pomerania. The beach is surrounded by sand dunes with pines, willow trees and rare species of plants growing on them.
As far as worthy a visit monuments are concerned, in Dziwnowek we find St Maximilian Maria Kolbe church and a memorial dedicated to Polish soldiers fighting during World War 2. Moreover, in the centre, by the main road to Dziwnow and Miedzyzdroje, there is a metal lighthouse dummy. Originally, in the 1970s, it was located in Kamien Pomorski, but later Dziwnow commune authorities ordered to move it to Dziwnowek. From then on, the lighthouse has been the resort's main attraction.
GEOGRAPHY
Dziwnowek is a small village in the Western-Pomeranian Voivodeship, in Kamien Pomorski county and Dziwnow commune. It is located on Dziwnow Tombolo, in between the Baltic Sea and Wrzosowska Bay.
HISTORY
First records about Dziwnowek come from 1503. In the 18th century it was a tiny village, with only seven fishermen's huts. The village converted into resort only in the end of the 19th century. In March, 1945 it was a place of Poland's battle with Germany. Until this year Dziwnowek had been called Klein Dievenow.