Kalwaria Zebrzydowska
Kalwaria Zebrzydowska is a town in southern Poland and a sanctuary site that has immense cultural and religious value to Polish Catholics. The whole historical, architectural and pilgrimage complex consists of a basilica, a Franciscan monastery and several avenues, all of which were added to the UNESCO World Heritage List in 1999. Actually, it is the only Calvary in the world to be so listed, and in Europe alone there are over a thousand of them. Pope John Paul II was greatly attached to this place. As a boy, he would often come to Kalwaria Zebrzydowska from his neighbouring hometown of Wadowice. After he became Pope he was to visit Kalwaria twice more.
Kalwaria Zebrzydowska TOURISM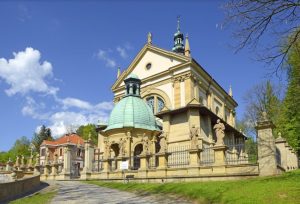 Two major events occur each year and draw great numbers of visitors to this picturesque spot. One of these events takes place during Holy Week, when pilgrims arrive eager to attend the colourful, dramatic and realistic Passion Play relating to the last days of Jesus's life. The play, regarded as an act of collective catharsis, provides a deeper understanding of traditional Polish Catholicism. During the summer Kalwaria reawakens for the Festival of the Assumption (15 August) – the most significant Polish Marian holiday.
Whether it is summer or winter, pilgrims have the opportunity to see all the enchanting small churches, chapels and other monuments that can be found within this romantic landscape. Especially precious are Jesus Christ's Tomb, the House of Mary and the Western Gate. The most important religious artefact to be found here is the miraculous picture of Virgin Mary and Child, located in the Zebrzydowski Chapel.
It is easy to lose your way; therefore taking a guide may be advisable, particularly for organised groups. Visitors may find the two marked routes rather exhausting as both are a couple of kilometres long. The reason for the length of the routes is that Zebrzydowski told his designers to copy the original path of Jesus, only to make it ten times as long. In reality, they are three times longer, but there are still some more strenuous approaches. It takes 2-3 hours to cover each route, and visitors who wish to see both of them usually stay for the night. You can spend the second day at exhibitions and in the shops admiring the superb furniture that Kalwaria Zebrzydowska is famous for. If you are here during spring or summer you may have the opportunity to visit the Furniture Fair.
GEOGRAPHY
Kalwaria Zebrzydowska is located in the Lesser Poland Voivodship (Malopolska), 40 km to the south-west of charming Krakow. It developed alongside the River Cedron, between two majestic mountains – Lanckoronska (555 m above sea level) and Zar (527 m). This small town has a population of around 4,000 people.
HISTORY
Mikolaj Zebrzydowski was the squire of Krakow in the 17th century, and had a castle standing on Lanckoronska Mountain. The story is that one day his wife was looking out of a castle window when she had a vision of three flaming crosses, rising higher and higher. Mikolaj founded a church and a monastery in that very spot. Also at his initiative a very special garden was created at the bottom of Lanckoronska Mountain, where he came to pray and make penitence. Before long an entire complex of about 40 chapels grew up on the nearby hills, a number of them inspired or patterned after buildings in Jerusalem and some even bearing the same names.