Niechorze
Niechorze annually attracts thousands of tourists, who wish to rest in a peaceful and picturesque area. While in the resort, you ought to visit fishery museum, which holds an archive of miscellaneous records and photographs relating to fisher's occupation, and a lighthouse complex from the 19th century. Niechorze is perfect for those who dream of holidays on the beach, a relaxed atmosphere and plenty of attractions. The resort's accommodation offer is diversified – you may choose to stay in a guest house, in a hotel or at a camping field. Everyone will surely find something for themselves.
Niechorze TOURISM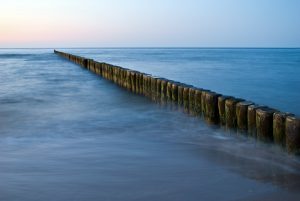 Niechorze is a typical summer resort. Its main attractions are three piers, from which you will be able to admire the beauty of the Rewal coast. Your children, on the other hand, will undoubtedly appreciate numerous bouncy castles and water slides situated on the beach.
In the town centre there are many pubs, restaurants and beer gardens, where you can eat a delicious fried flatfish or cod and drink cold refreshing beer. Besides, in Niechorze and the neighbouring Pogorzelica numerous shows, concerts, festivals and tournaments are organised. The most vital event here is annually-held Men's Beach Volleyball Championship.
You will not find many monuments in Niechorze. Nevertheless, there are some worthy a visit places. We recommend you to see the lighthouse complex from 1860s, a narrow-gauge railway station from the turn of the 20th century, the 18th-century-old tenement houses with ornamental gates and a listed pen in Srodkowa Street. During your walk through Niechorze park, you should pay attention to the rock with a memorial tablet. It was placed there to commemorate the capture of Niechorze during WW2.
GEOGRAPHY
Niechorze is a town of the Rewal coast, situated between the Baltic Sea and Liwia-Luza Lake. The resort is quite small with its population of 927 people. However, during spring and summer seasons the visitor number greatly increases and this usually-peaceful town becomes vibrant with life. Due to its wide beaches, clean air, saturated with Iodine and numerous tourist attractions, Niechorze draws in a lot of people every year.
Niechorze is easily accessible by PKS bus from Szczecin, Gryfice, Kołobrzeg, Poznan and Trzebiatowo.
HISTORY
In the beginning, Niechorze was a typical fishing village. Its development began only in the 19th century, and the real boom took place in 1870. In the decay of the 19th century there were 700 tourists registered in Niechorze and by the First World War there were three times as much of them.
On 1 July 1896 a narrow-gauge railway connecting Niechorze with Gryfice was opened here. Seventeen years later the line was extended to Trzebiatow and Pogorzelica and the next narrow-gauge railway station was built.
Niechorze was originally composed of two villages: Klein Horst and Gross Horst. On 1 April 1936 they were joined into one and named Ostseebad Horst. During WW2, Ostseebad Horst was captured by Polish Army, as a result of which it became a part of Poland. The town was called Niechorze and its inhabitants were displaced.