Rowy
Rowy is a tiny, yet very popular among tourists, resort at the seaside. Each year it is visited by crowds of Polish and foreign travellers, who wish to sunbathe on a wide local beach and breath with Iodine-rich sea air. An unquestionable advantage of Rowy is its close proximity to Gardno Lake, a perfect place for water sport enthusiasts and keen anglers to fulfil their passions. The village is neighbouring also with Slowinski National Park and "moving dunes."
Rowy TOURISM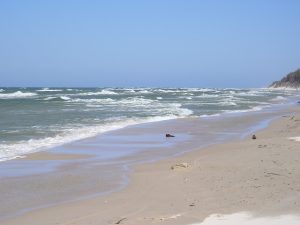 In Rowy we find a lot of accommodation places, yet there are more guesthouses than large chain hotels. There are also many pubs, restaurants and cafés, where visitors may eat a delicious dinner, have a glass of wine or simply chat with friends. Since the village is small, the distance to the beach is relatively short from each place there. Most of Rowy inhabitants do fishing for a living and because of that guests may easily get a fresh flatfish, cod, or zander.
While walking around Rowy, you will surely notice numerous thatched houses from the early 19th century. Approximately at the same time a neo-Roman church was built in the village. These days it is the only church in Rowy and so as the most significant monument in this area.
Those who are tired of city hustle and bustle ought to visit Slowinski National Park. Its unique fauna and flora will undoubtedly fascinate all nature lovers.
GEOGRAPHY
Rowy is located on the Slowinskie Coast, 22 km from Ustka and 28 km from Slupsk. It is sandwiched between two most popular resorts at Polish seaside – Ustka and Leba. Such a location makes the village easily accessible both by car and bus.
Rowy lies on the left side of the Lupawa River, just by its mouth to the Baltic Sea. The village's situation at the very seaside and the surrounding of pine forests makes it a unique place, attractive for tourists.
HISTORY
Archaeological findings tell us that the area of Rowy was inhabited already in prehistoric times. Starting from the 17th century, the village was often changing its name; it was known as Rou, Roye, Rowe and Row.
A legend says that Rowy was established by fugitives from Wolin after they had been invaded by Vikings. The oldest recorded document comes from 1282 and pertains to Duke Msciwoj II granting the church of St. Stanislaw in Gardno the right of ownership. In the 13th century the village served as a sea port for Gardna Wielka fortress. In the next century prince Bartowicz obtained the right to organise herring anglings in the village.
Other written records about Rowy are the 15th century-old documents pertaining to von Zitzewitzs, von Stojentins and von Kleists families. More detailed information may be found in acts from 1602, which included rescript regulating clergymen duties.
In 1784 the village was inhabited by 26 families, who made their living as fishermen. The first church in the village was built in the beginning of the 14th century, nearby Gardno Lake. In 1581 it was converted into a new one and the present-day church comes from 1840s. It is claimed that devil had a hand in building of this church.