Ustka
Situated on the Baltic Sea, the town of Ustka is one of Poland's best known bathing resorts. Year in year out, the town becomes increasingly more popular with tourists both from Poland and from abroad, with thousands visiting every year. It should come as no surprise then that over the past few years the town has won a string of prestigious local awards for the best summer resort in the country.
Ustka TOURISM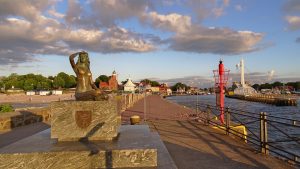 The town boasts two beautiful beaches divided by the river Slupia. Being situated closer to the centre, the eastern beach enjoys far greater popularity among visitors than the western beach, which leads into the Navy Training Centre. Much more developed and surrounded by bars, restaurants, a concert hall, and the 19th century waterfront promenade, Ustka's eastern beach has also been a cause of considerable expense for the town authorities as the beach is being gradually worn away by the sea.
Ustka takes pride in a long railway history, with the first passenger train to leave the town departing on 1st October 1878. The construction of the railway helped the town to start capitalising on tourism, and now since the collapse of the Ustka Shipyard the local authorities have been looking on tourism as the main source of income for the town.
Another thing to see is the unfinished pier, the construction of which was started by the Germans at the beginning of World War II, a fact which attracts legends and myths related to Nazi Germany. Worthy of a visit is the lighthouse from 1871, the Main Post Office from 1875, and a church from 1882, while an unmissable event is the International Contest of Fireworks organised annually in July.
GEOGRAPHY
With over 17,000 inhabitants, the town of Ustka is located in northwestern Poland, in the Voivodship of Pomerania. Its proximity of the sea, its infrastructure and the effort by its authorities to revitalise the Old Town make Ustka a paradise for tourists, even those who are difficult to please.
HISTORY
The first written records of Ustka date from 1337. For over five hundred years Ustka officially belonged to the city of Slupsk. The establishment of the railway in 1878 led to an influx of visitors and as a consequence the number of inhabitants gradually increased too. This situation resulted in the rapid development of the service sector in the region. A fast growing holiday resort, Ustka was granted a town charter in 1935. Very early on, the town became Germanised by settlers invited by the Slavonic Dukes of Pomerania. It belonged to the Kingdom of Prussia, the German Empire, the Weimar Republic and Nazi Germany respectively. In 1945, as a result of the Potsdam Conference, the town was ceded to Poland. A popular destination for sun lovers and holidaymakers, Ustka is now one of the most famous tourist landmarks in Poland.