Wetlina
This tiny village in the Subcarpathia region is an ideal destination for active tourists. Its situation in the foot of Smerek Mountain will surely attract all mountain hiking and winter sports enthusiasts. Wetlina is also a good starting point to Ukraine and Slovakia.
Wetlina TOURISM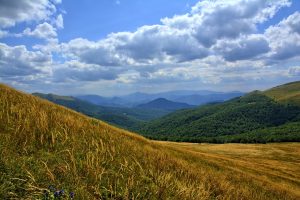 Wetlina is a little-known, but undoubtedly worth visiting tourist resort. It is a paradise for active travellers. There are numerous tourist trails of different difficulty levels (yellow, red, blue, green and black) running through the village. Moreover, there are about 20 km XC ski trails around Wetlina.
Worthy of interest are also local cyclical events. Every summer since 2003 a jazz festival has been held here (about six concerts during the summer season), and since May 2007 a reggae festival has been organised.
GEOGRAPHY
Wetlina is a village in the Subcarpathian Voivodeship, in Lesko County and Cisna Commune. It lies by Wetlina stream, on the border of Cisniansko-Wetlinski Landscape Park and Bieszczady National Park. Wetlina is located approximately 145 km from the capital of the voivodeship, Rzeszow.
HISTORY
First records about Wetlina are from the 16th century. Until 1553 the village's owner was Piotr Kmita Sobienski and after his death – childless widow Barbara Kmita from the Herburt family. In 1580 Wetlina's proprietor became her brother, Stanislaw Herburt.
On 25 September 1944 Wetlina was taken by the Soviet troops and completely desolated. First settlers appeared only in the 1950s and 1960s.
There used to be the greatest in the Carpathian Mountains Orthodox church. Nowadays, it is a Catholic church.