Zamosc
Called the Padua of the North and the Pearl of the Renaissance, Zamosc is a UNESCO World Heritage List site, and there are few cities in the world that have been included on the list as a whole! What gives the city its unique character is its Renaissance model town-planning layout, which has remained unchanged since its creation in the 16th century. Zamosc is also the cultural centre of a picturesque area known as the Roztocze, and it hosts regular and occasional events both on a regional and an international scale.
Zamosc TOURISM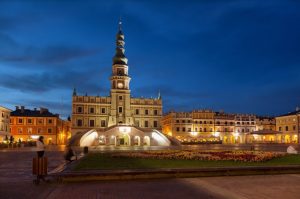 Patterned after the Italian concept of the "ideal city", the beautiful city of Zamosc has retained much of its inimitable atmosphere. It was founded by a powerful nobleman, Jan Zamoyski, and constructed according to a plan by the architect Bernardo Morando, a Paduan native who had moved to Poland in search of work. Morando succeeded in creating an impressive work, a model example of a late 16th-century Renaissance town.
The original layout and fortifications have been preserved to an exceptional degree, while numerous buildings successfully combine both Italian and central European architectural conventions. During the spring and summer, Zamosc holds a number of cultural, sports and trade events, making it even more attractive to visitors. Most of these events take place in the Great Square.
Zamosc is a great base for a vacation in the adjacent Roztocze region. Within a dozen kilometres of the town you can enjoy the beauty of the Roztocze National Park as well as five other scenic parks. These unspoiled open spaces offer many possibilities to relax, hike and to take short bicycle rides.
GEOGRAPHY
Covering an urban and rural area of 30 km2, Zamosc has a population of 68,300 and is situated in the south-western part of Lubelskie voivodship, about 90 km from Lublin, 247 km from Warsaw and 60 km from the border with Ukraine. Did you know that the fastest way to reach Lviv from Warsaw is via Zamosc?
The city is located at an altitude of 210 m, while the rivers Labunka and Topornica flow through it in a wide, marshy river valley surrounded by the gentle hills of the Roztocze. The Roztoczanski National Park is situated very close to Zamosc.
As the climate here has a continental character, Zamosc experiences dry and hot summers and generally frosty winters.
HISTORY
The town's history dates back to the granting of the location privilege in 1580. Chancellor and Hetman Jan Zamoyski, a quintessential Renaissance man, appointed an Italian architect called Bernardo Morando to design and build a town for him. It was originally called New Zamosc, derived from the family name of Zamoyski.
Occupying a position on the trading routes leading to Lviv and Kiev, Zamosc rapidly gained a population of Jewish, Italian, Armenian, Hungarian, German, Greek, Spanish, English, Turkish, Persian, Dutch and Scottish merchants, turning it into a multi-cultural and multi-religious town. Its inhabitants created a colourful society that consisted of as many as twelve nationalities. A number of people living in Zamosc were given significant privileges and benefits by Zamoyski. This diversity and the Renaissance architecture helped shape the unique character of Zamosc.
International fairs held in Zamosc were modelled on exotic eastern bazaars. Armenians maintained trade contacts with their fellow-countrymen from the Crimea, Turkey, Persia, Moldavia as well as south-eastern Poland. They brought all kinds of merchandise to Zamosc, including weapons, furs, jewels, saddles, wines, carpets, rugs, eastern fabrics, gold and leather goods, spices, pigments, nitrates and silk belts from Persia, Turkey and China. On this basis, the town quickly turned into a major trade centre.
In 1589 the Grand Chancellor distanced himself from royal Krakow and created a state within a state in the region, with Zamosc becoming its capital.
In the 17th century the town's massive fortifications built by Bernardo Morando proved themselves to be sufficient to repel the "Swedish Deluge". Zamosc was in fact one of few Polish towns to resist this invasion.
The memory of the unique personality that was Jan Zamoyski, combined with the traditions of cultural and educational achievement were the important factors that influenced Zamosc's development.
A crucial battle of the Polish-Russian war of 1919-20 took place close to Zamosc, which ended with the total defeat of the Red Army. During the Second World War the town sustained no serious damage, but the Germans inflicted great suffering on its people: they put to death more than eight thousand inhabitants in the Old Town's Rotunda. Upwards of 300 villages in the vicinity of Zamosc were cleared and burned down.
UNESCO listed the city as a World Heritage Site in 1992.