Zegrze
This little village is located some 20 km from Warsaw and is famous for having the closest reservoir to the capital city. As a result, it is very popular in the summer among city people as well as those from further abroad. There are beautiful spacious surroundings, well-kept beaches, many wild corners and uncountable possibilities of enjoying water sports.
Zegrze TOURISM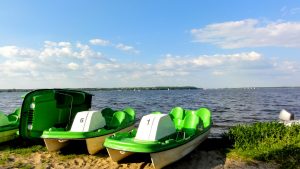 Thanks to its close proximity to Poland's capital, Zegrze is a perfect place to visit Warsaw even for a one-day break. However, there are also several guesthouses and hotels offering good levels of accommodation.
The lake is about 40 km long, covers an area of 33 km2 and is linked to Warsaw by the Zeranski Channel. On the banks of Zegrze you can find many new ports, hostels and resorts, many built quite recently and making this place perfect if you like an active break. From the end of spring until late autumn, people come here to swim, windsurf, row boats, canoe, ride horses or jog. A couple of days here is all you need to recharge your batteries and get some high-quality relaxation. If you come here in winter then you may see the annual iceboat contest.
There are plenty of wild places around Zegrze, great if you are looking for peace and tranquillity or if you are a bird spotter – there are mallards, swans and many other species. The forests surrounding the lake give you excellent opportunities for long walks, jogging and mushroom picking.
Besides the environmental advantages, you will also find many historical buildings to see – the current Polish Press Agency Resort is based in the old 19th century Hunter's Palace, there is the casino and the remains of the Ordon and Karlinek forts. If you are fascinated by militaria then there are forts from the times of the Russian partition, or you can see the Great Fortification.
GEOGRAPHY
Zegrze lies on the Zegrze Reservoir, in the eastern part of the Warsaw Valley between Warsaw and Plock at the meeting of three rivers – the Bug, Narew and Vistula. The village is situated about 20 km from Warsaw, in the Legionowo district and close to Nieporet (5 km), Serock (7 km) and Radzymin (13 km). Access from the capital city is by a main road, and there are direct roads to Pultusk and Wyszkow.
HISTORY
Zegrze is known to have existed as early as the 12th century, when it featured a market. It is mentioned for the first time in the sources dating back to the 14th century, when it was called Zgierz (after an old Polish word for ford). Originally this village belonged to the Strumillo-Zgierscy family, and from the 18th century it was the country seat of the noble family of Krasinscy, becoming part of the Radziwills' estates in 1862. At the end of the 19th century the Russian government bought it in order to build a fortress as a defensive point for Modlin and Warsaw.