Discovering the gem of Poland: a guide to visiting the historic city of Zamość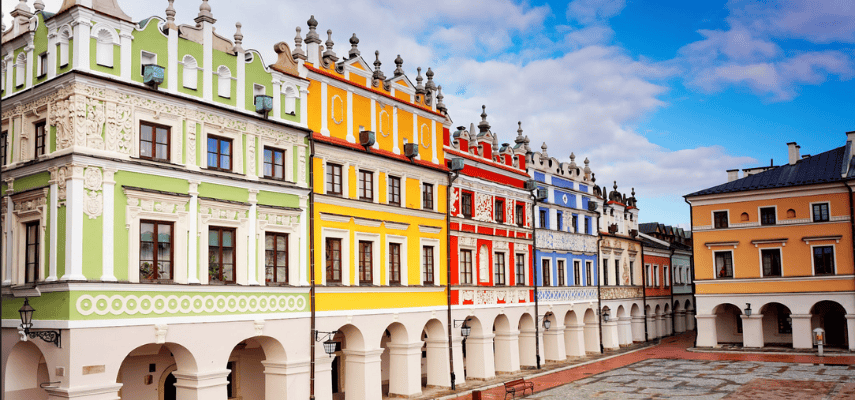 Zamość, located in southeastern Poland, is a city that should be on every traveler's must-see list. This stunning Renaissance gem is often referred to as "the Padua of the North" due to its well-preserved Renaissance architecture, which includes beautiful houses, palaces, and fortifications.
The Old Town in Zamość – a true gem
The Old Town is a popular tourist destination, attracting visitors from around the world who are interested in Renaissance architecture, cultural heritage, and history. It has been listed as a UNESCO World Heritage Site and is well-maintained, making it a great place to explore and admire its beauty and history. 
It was founded in the 16th century by the Polish nobleman Jan Zamoyski and was designed according to Italian Renaissance town planning principles. The Old Town is a rectangular grid of streets and alleys, surrounded by fortifications and gates, and is filled with beautiful Renaissance buildings, churches, and other historic structures.
One of the most notable features of the Old Town is its stunning architectural style. The buildings are adorned with intricate facades, ornate doorways, and colorful window frames, and many of them feature unique architectural details, such as wooden balconies, bay windows, and wooden roofs.
Another notable feature of the Old Town is its religious sites. Several churches and religious institutions are located within the Old Town, including the Church of the Holy Trinity, one of the region's largest and most impressive churches. The church features a beautiful Baroque facade and an intricate interior filled with frescoes, sculptures, and other works of art.
The Old Town of Zamość is also home to several important public buildings and monuments, including the Town Hall, which is one of the oldest and most impressive town halls in Poland, and the Monument of Jan Zamoyski, which is located in the town square.
Zamość is also a great destination for those who enjoy outdoor activities, as the surrounding countryside is home to several parks and nature reserves. The city is surrounded by rolling hills and forests, making it a perfect destination for hiking, biking, and other outdoor activities.
How to get to Zamość
Lublin is probably the best option for reaching Zamość. It has its airport (Lublin Airport), which offers flights from several European cities. Visitors who fly into Lublin can take a train or bus to Zamość, approximately 60 kilometers away. The journey from Lublin to Zamość by train takes about 1 hour, and frequent trains are available throughout the day.
If a direct flight to Lublin is unavailable from your airport, try to catch a flight to Warsaw. The capital of Poland is well connected with Lublin, making it relatively easy to get there by train, car, or bus.
Where to stay in Zamość
Visitors to Zamość have several options for where to stay, depending on their budget, preferences, and travel style. Here are some popular options:
Hotels: There are several hotels located in the city center of Zamość, which is the best location for exploring the Old Town and other attractions. Some popular options include the 4-star Hotel Zamojski&SPA, Hotel Koronny, or the 3-star Hotel Renesans.
Hostels: For budget-conscious travelers, there are several hostels located in the city center, offering clean and affordable accommodation. Some popular options include the Hostel Starówka and Hostel Zamość.
Apartments: For more independence and privacy, consider renting an apartment. Many apartments are available for rent in the city center and the surrounding countryside, ranging from cozy studios to spacious apartments.
No matter which type of accommodation you choose, book in advance, especially during peak travel season, to ensure you get the best possible rates and availability.
Zamość is a must-see destination for anyone interested in Renaissance architecture, cultural heritage, and outdoor activities. With its well-preserved Old Town, rich cultural heritage, and beautiful natural surroundings, Zamość is a city that truly has something for everyone.