Niedzica Castle: Unraveling the Mystery of the Lost Inca Treasure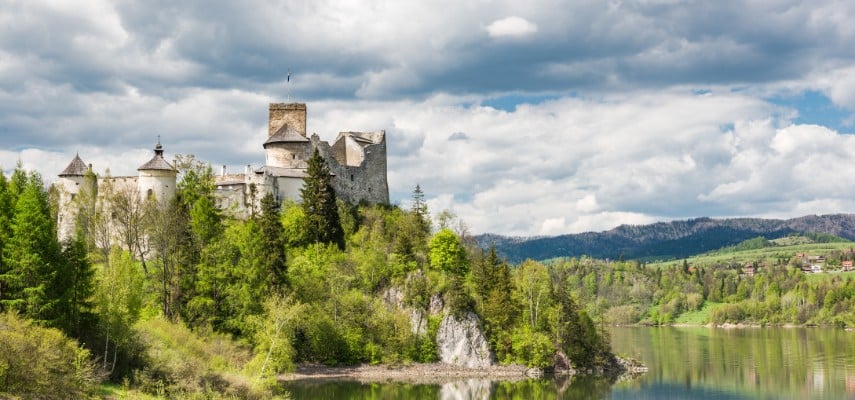 Let's make our way to the impressive Niedzica Castle in Poland. Perched on a hill overlooking the stunning Czorsztyn Lake, this beauty looks like a fairytale fortress. So let's dive into its mythical past.
Niedzica Castle, or Dunajec Castle as it's also known, was built in the 14th century by a Hungarian family. Its strategic location on the trade route to Hungary made it an important fortress, and it witnessed numerous events! But it's the legends woven into the stones of the castle that fire our imagination.
The most famous legend associated with Niedzica Castle is the tale of the Inca treasure. Yes, you heard it right, an Inca treasure in Poland! A certain Hungarian nobleman by the name of Sebastian Berzeviczy decided to journey to South America in the late 18th century. There, he had the good fortune to meet an Inca princess, and they eventually got married. Their daughter, Umina, married the nephew of Túpac Amaru II, an Inca leader known for his rebellion against the Spanish colonial government. Interestingly, Túpac Amaru's name was a nod to his claimed descent from Inca royalty.
Unfortunately, the Spanish didn't take kindly to Túpac's insurrection and executed him. The story suggests that the sacred Inca scrolls were passed down to his remaining family members. After Túpac's execution, his nephew, Andrés Túpac Amaru, also known as Andreas, fled with his wife Umina and father-in-law Sebastian to Italy. But their troubles didn't end there. Andreas met an untimely end under suspicious circumstances.
Umina, now widowed with a son and accompanied by her father, decided to seek refuge in other country, choosing the Niedzica Castle as their sanctuary. It is said that Umina was later murdered there, but not before leaving a testament to her son Anton in 1797. This testament, stored in the castle, was believed to hold clues about the fabled lost Inca treasure.
A leaden case containing "quipu" writings, an ancient Inca form of record keeping, was discovered at the castle but sadly got lost in Kraków over the ensuing years. This sparked rumors of treasure hunts at Lake Titicaca in Peru, as adventurers sought the legendary Inca wealth. Today, many still hold onto the thrilling prospect that a map leading to this treasure, or perhaps even the treasure itself, might be secreted away somewhere in Niedzica Castle.
Another tale spinning around this magical castle is the ghost story of the "White Lady". She's said to be the ghost of Umina, who was brutally murdered in the castle. Witnesses claim to have seen her wandering the halls of the castle and appearing often before a disaster occurs. Some say she guards the hidden treasure. Others suggest she's seeking justice for her untimely death. Either way, it's an chilling tale that adds an eerie touch to the mystique of the castle.
So here it is. Niedzica Castle, where Inca gold, haunted corridors and unsolved mysteries collide. It's a place that truly gives you the creeps and makes your visit an unforgettable trip back in time. If you're ever in Poland, don't forget to visit this historical gem. Who knows, you might be the one who finally finds the hidden map or treasure. Or meets the "White Lady". Happy adventuring!