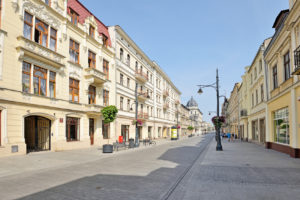 During your tour you will have the opportunity to see Ksiezy Mlyn – an amazing industrial district where you feel that time stopped. You will be able to wander around the buildings of Karol Scheibler's factory, which in the 19th century formed a city within city and and Izrael Poznanski's factory, nowadays is shopping and entertainment centre "Manufaktura".
We will not let you miss the largest palace in Lodz, also once belonging to Izrael Poznanski, the "king of cotton". It was built in 19th century and was lucky to survive WW2, when it became seat of the German local administration.
Afterwards you will take a walk along famous Piotrkowska Street. You will also learn more about the world of cinema, because Lodz raised a generation of the most eminent Polish filmmakers, such as Wajda, Zanussi and Kieslowski.