Bukowina Tatrzańska
Bukowina Tatrzanska is an ideal place to rest and relax both in summer and winter. Being one of the highest-located tourist resorts in Poland, Bukowina is a great starting point for mountain trips in Tatras and guarantees excellent skiing conditions on the slopes in winter. Bukowina is becoming increasingly popular among tourists and attracts more and more mountain and winter sport lovers every year.
Bukowina Tatrzańska TOURISM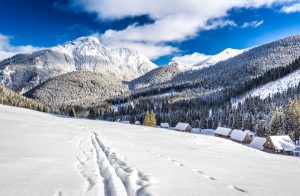 Bukowina is a picturesque tourist resort. It is a paradise for skiing lovers; it owns 22 modern ski lifts providing excellent skiing and snowboarding conditions. Most ski runs are dry and illuminated. Apart from the ski slopes, Bukowina has other attractions. It is one of the most modern water complexes in Europe. In the thermal complex there are 12 swimming pools (with water temperature maintained at 28-36°C), a waterslide, pools for the youngest, 8 saunas (i.e. Roman, Finnish, highlanders', flower and infrared) as well as Spa&Wellness Centre.
GEOGRAPHY
Bukowina Tatrzanska is a village in Tatra County, Lesser Poland Voivodeship. It is situated within the so called Rocky Podhale (Polish: Skalne Podhale) at the altitude of approximately 1,000 m above the sea level. In Bukowina's neighbourhood other tourist resorts are situated. These are: Poronin, Male Ciche, "Winter capital of Poland" – Zakopane and Bialka.
HISTORY
The first records about Bukowina Tatrzanska are from the 17th century. The first settlers were preoccupied mainly with farming and sheepherding. In the beginning of the 20th century the place was of attraction to people of science, art and politics, fascinated by the beautiful views of Tatra mountains and the rich highlanders' culture. In the same time, the Society of Bukowina Friends was established by the village lovers in order to help the inhabitants in Bukowina's development. In 1928, thanks to the support of the Society, a Community House was built. It was a centre of the village's cultural life. The Community House exists until now and is the only one Cultural and Educational Cooperative in Poland. It is known also abroad for its annual folk events: Sabala's Tales and Highlanders' Carnival.