Chalupy
If you are seeking a place beside the sea where you can spend your holiday in a cosy atmosphere, then Chalupy is worth recommending. Although at first glance it seems quiet and lacking in special attractions, the village will surprise you with its own distinctive character and with the positive energy it emanates. A standard two weeks spent in this village will certainly leave you with wonderful memories and the desire to return.
Chalupy TOURISM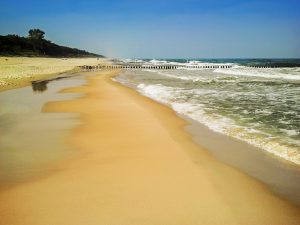 While it is a small and seemingly quiet fishing village, this place has a few aces up its sleeve that show that the lively and vibrant rhythm of the popular song " Chalupy – welcome to" was not just a marketing ploy to attract tourists to some dull and boring spot. The main attractions include a walk along the promenade branching off the village's small port, and a romantic paddle along its beautiful beach. Every year in mid-July there is a regatta of old sailing boats, and this event is always accompanied by a host of contests and a party atmosphere. Along with this, Chalupy, the self-proclaimed capital of windsurfing, is a venue for surfers from all over Poland, who throng to the village to enjoy the warm and shallow waters of the Baltic Sea.
GEOGRAPHY
The village of Chalupy is located in the Voivodship of Pomerania, en route to the town of Hel and just beyond the town of Wladyslawowo to which it formally belongs. The village's proximity of the sea, its closeness to the Bay of Puck, as well as its geographical position enabling easy outings towards Hel or Gdansk, make Chalupy a good option for a long holiday. While there is no tourist information point in the village, you can find all necessary information about Chalupy at Wladyslawowo's Promotion Agency, situated at Hallera Street 4.
HISTORY
The earliest written record of Chalupy appears in 1678, when Gdansk handed the starosty of Puck back to Poland. In 1772 the village was home to a mere eleven peasant cottages. The respective owners of the village were the families of Wejherowie, Radziwillowie, Sobiescy and Przebendowscy. Chalupy changed hands often until 1895, when a Berliner bought the village for 1350 marks. Soon after that he left the village and never returned – and from then on the fishermen have regarded the village as their own.