Ciechocinek
A small, picture-postcard town perched on the left bank of the Vistula River, Ciechocinek is one of Poland's biggest health resorts. Apart from being home to a number of sanatoriums aiding convalescents, it offers some attractions for tourists who want an active holiday. The town manages to draw in visitors with its well-developed service sector, priding itself on the wide choice of bars, cafés, hotels and restaurants. Numbered among the most well-known places in the country, Ciechocinek has been popular with the sickly and the healthy alike from time out of mind, especially for social reasons. Legends have it that once a lonely person crosses the threshold of the health resort they are likely to find a partner for life and will not come home alone.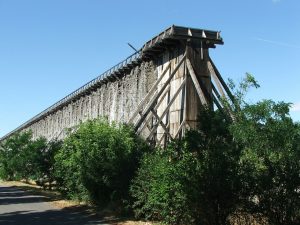 Ciechocinek TOURISM
No other place is likely to beat Ciechocinek when it comes to the number of facilities serving the needs to better your health. With ideal climatic conditions, the town's health resort boasts four spa hospitals, four preventoria, numerous sanatoria, and facilities such as a pump room, a swimming pool filled with brine, and several solaria.
A few hundred metres from the railway station in the north-east of the town are three graduation towers, built in the 19th century. These 15 m high and about 1.7 km long wooden structures are unique in Europe. Salty water evaporates while it flows down the towers and at the same time creates a healing microclimate. The health resort is suitable for people who have been prescribed treatment at a sanatorium, and especially for those who suffer from cardiovascular, respiratory and rheumatic diseases.
Among the list of main attractions you will find a cruise on the Vistula River and horse riding. Ciechocinek is host to cultural events too, including important meetings, concerts, festivals and local school contests. These events take place in either of the town's two most popular venues, namely the Summer Theatre and the Concert Shell.
GEOGRAPHY
Ciechocinek is situated on the left bank of the Vistula River in the Kuyavian-Pomeranian Voivodship, between Torun and Wloclawek. This small town with just over 11,000 inhabitants has developed into an important spa, a fact which has put it on the map.
HISTORY
It is thought that the history of its saline springs goes back to very ancient times, with records from the 13th century being widely regarded as the oldest ones, while the first written mention of the town itself dates back to 1466. Rich in saline deposits and brine, the region prides itself on what are considered to be Europe's oldest salt workings. Regarded as a spa from the first half of the 19th century, Ciechocinek started to offer convalescents brine bath therapy as early as in 1836. Granted a town charter in 1919, Ciechocinek underwent a fast development in the interwar years to become one of Poland's most popular health resorts.