Dabki
Dabki, a popular Polish spa resort, is often regarded as a destination for those seeking recuperation in sanatoria (health resorts). However, the village's offer is much more diversified. Since it lies by Bukowo Lake and in the valleys of the Wieprza and Grabowa Rivers, it is a paradise for water sports fans, especially windsurfers. Only a few know that this small village hosts the Polish Windsurfing Cup.
Dabki TOURISM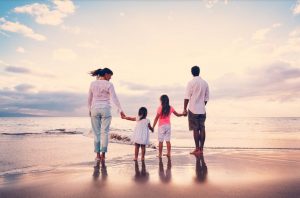 A small resort by the Baltic Sea, Dabki is a paradise for water sports fans. With easy access to Bukowo Lake and strong winds, windsurfers come here to develop their skills. The village's offer for active visitors is wide. Besides windsurfing, there is canoeing, horse riding, swimming in the Geovita aqua park and Go-Karting. Spring, summer and fall offer hiking opportunities. Dąbki is the centre of tourist trails and boasts many picturesque foot- and bike-trails as well as canoeing routes on the Grabowa and Wieprza Rivers.
This spot of nature has few man-made monuments. There is a wind turbine in nearby Darlowko and some natural monuments along the village's trails. Another attraction is the fishing smacks (small sailboats transporting fish caught from the sea) that can be sighted on the beach.
Dabki is also a great place to rest and relax for tourists who want to take it slow. The village boasts a wide sandy beach and very clean seawater. Keen anglers can go for night-fishing on the Baltic Sea or try to catch freshwater species in Bukowo Lake or the Wieprza and Grabowa Rivers. Above all, Dabki is a prominent spa resort with many sanatoria catering to those with respiratory system problems. Every year thousands come here to inhale the healthful iodine-rich sea air.
GEOGRAPHY
Dabki is a picturesque village in Western-Pomeranian Voivodeship, situated on the seaside in between Koszalin and Darlowo. Since it lies in the Wieprza and Grabowa river valleys and by Bukowo Lake, it is a paradise for water sport lovers and keen anglers.
The village is rather small with a population of 265. However, the visitor number surges greatly during spring and summer. Dabki's humid climate and high levels of sunlight exposure is a balm for those with respiratory system ailments, attracting thousands of tourists annually.
HISTORY
The first records about Dabki are from 1493, but the precise date of its founding is not known. The village was for many years a property of the Order of Cistercians. Later it came into possession of dukes of the Western Pomerania and in 1550 of the town of Darlowo.
In the end of the 18th century Dabki was populated by 250 people (in the majority fishers and farmers) and in the 1890s by 260 people. There were 44 buildings and 45 farms in the village.
Already in the beginning of the 20th century Dabki was treated as a spa and seaside watering place. The village was electrified in 1918 and ten years later Koszalin – Darlowo road was built. In 1939 there were a school, two inns with big clubrooms and a sanatorium belonging to Berlin health fund in Dabki. More and more tourists visited the resort, but still it was fishing that constituted the main livelihood for the inhabitants. Soon after the Second World War Soviet forces stationed here and in the 1960s many modern sanatoria and guesthouses came into existence.
In 2007 Dabki was qualified for spa status. Currently, there are some high-class hotels and sanatoria that offer treatment therapies in the town.