Dzwirzyno
Situated with the seashore on one side and a lake on another, Dzwirzyno is an excellent holiday destination for those who love to relax on the beach, while at the same time offering abundant possibilities of other forms of recreation. Since the 1970s it has boasted the status of a spa town, which together with a robust tourist base, draws flocks of visitors dreaming of sun, white sand and fresh air.
Dzwirzyno TOURISM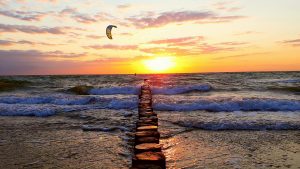 Two ports on Lake Resko Przymorskie offer yachts, canoes and motorboats for rent as well as giving the opportunity to practise windsurfing. There are also good conditions to go angling since salmon, trout, sander, perch and eel are to found. Dzwirzyno's beautiful seashore is lined with a belt of dunes, and is one of the cleanest on the Polish coastline. Some of the beaches are also accessible for the disabled.
Apart from water sports, there are many other options for active breaks – there are tennis courts, horse riding stables and cycling trails in and around Dzwirzyno. Outside the village are four main cycling trails of a total length of about 70 km. If you are looking for unusual attractions, why not try paramotoring as well?
Besides this, Dzwirzyno is a health resort specialising in curing respiratory and cardiovascular system diseases.
GEOGRAPHY
Dzwirzyno belongs to the Western Pomeranian Voivodship, covering the north-eastern corner of Poland. This village lies on the Baltic Sea shore as well as that of Lake Resko Przymorskie, the latter linked with the open sea by a canal. What is interesting is that back in mediaeval times there was no connection between the lake and the sea until the 15th century when the land dividing it was broken by a storm on the sea.
Dzwirzyno is located some 13 km west of Kolobrzeg, and is one of the main urban centres of the area.
HISTORY
The name of a settlement called Dwirin was recorded in surviving documents from the 13th century. In the Middle Ages it belonged to a monastery in Bialoboki, and later was taken over by the town of Kolobrzeg. During most of its history it played a simple role as a fishing village. At the turn of the 19th and 20th centuries, it became a holiday destination, with the numbers of new guesthouses growing to meet the needs of the visitors coming to bathe and breathe the fresh air.
After World War II, when the German citizens left the area, Dzwirzyno remained uninhibited as there were troops garrisoned in nearby Rogowo. In the 1960s new inhabitants arrived and the village started to develop again for tourists. Now it is a modern and well-developed holiday destination with premium hotels and many attractions.