Gizycko
Sandwiched between the lakes of Niegocin and Kisajno in the heart of Masuria, the town of Gizycko offers spectacular views of the surrounding wilderness and the occasional single sail creaking in the wind, visible across the lake against the background of the rising sun. Its great selection of accommodation ranges from hostels to large family run businesses, and from cosy guesthouses to luxurious hotels to provide the perfect base for a relaxing break in this picturesque area of the region.
Gizycko TOURISM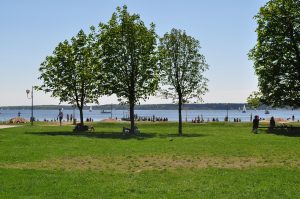 Gizycko is a centre for water sports enthusiasts, but for the less adventurous visitors the town also offers a multitude of charming coffee shops and bars, as well as a seemingly never-ending list of restaurants. A visit to this attractive town is an opportunity to try out such activities as golf, horse-riding, game hunting, white water kayaking, windsurfing, ice-boating or even a cruise of the lake.
While in the town, remember to visit its main tourist attraction, namely Fortress Boyen. This fortress is home to an amphitheatre known for its shanty festivals as well as its museum of fauna and flora. Next to the fortress, on a hill by the lake, towers a cross dating from 1910 and commemorating the martyr's death in the year 1009 of Bishop Brunon of Kwertfurt, a famed missionary and a friend of the King Boleslaw Chrobry. Must-see destinations for anyone include the hand-operated swing-bridge on the Luczanski Canal, one of only two such bridges in Europe, and the last remaining annex of the Teutonic Knights' castle built sometime after 1446.
GEOGRAPHY
Situated in the Warmian-Masurian Voivodship, perched on an isthmus between Lake Niegocin and Lake Kisajno, Gizycko is a small town of nearly 30 thousands inhabitants. Wildlife is rampant, the region to which the town belongs being a wooded one with a tremendous complex of fauna and flora provided by Puszcza Borecka, and a primeval forest covering an area of 250 km².
HISTORY
The strategic position of the town on an isthmus between two large lakes had a great influence on its history. The town was a stronghold of the Teutonic Knights, who built a castle there in the 14th century, while the first written mention of the town comes from 1340. Gizycko was granted a town charter in 1572, however the full civic rights, coat of arms and a seal were granted to the town some forty years later, in 1612. Fortress Boyen was built between 1842 and 1855 and was named after a Prussian minister of war. Used by the Germans during the Great War in their significant victory over the Russian army at the battle of Tannenberg in 1914, the fortress is now the most eagerly visited landmark of the town.