Gliwice
Gliwice is one of many towns in the largest industrial area in Poland, paradoxically being very different from the stereotype of an Upper Silesian town. It is a city of culture, of science and of enterprise, with aspirations to become a separate administrative centre in Silesia. As one of the oldest towns of the Upper Silesian region, it boasts a good Old Town and several interesting sights.
Gliwice TOURISM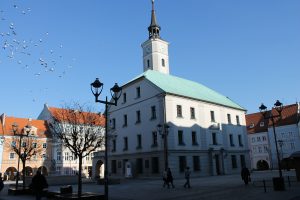 Like other towns of the Upper Silesian conurbation, Gliwice is known mainly as an industrial centre. The best-developed industries are coal mining, steel making and the production of machinery and chemicals. The inland port on the Gliwice Canal gives it access to the Baltic Sea via the Odra River. Gliwice is also an important educational centre, home to most of the departments of the Silesian Polytechnic. The population numbers around 200,000 people.
However, if you think Gliwice is only about factories and mines then you are mistaken. Founded in the 13th century, the Old Town still manages to retain its mediaeval layout and even the city walls dating from the turn of the 15th and 16th centuries have been partially spared. Among the remaining individual interesting historic sights is the Piast castle from the 15th century and later largely rebuilt, several old churches, the villa of Caro, some pretty tenement houses and the 19th century Town Hall. All are worth seeing, as is the most characteristic feature of Gliwice's skyline – the local "Eiffel Tour", a 110-metre high radio mast and thought to be the world's tallest wooden construction.
As one of the greenest towns in the region, Gliwice offers plenty of recreational opportunities. The Chopin Park is an oasis of peace, where you can just take a walk or visit the Palm House, one of the best local attractions.
GEOGRAPHY
Gliwice is the westernmost town of the GOP (Upper Silesia Industrial Centre), an agglomeration of several towns that includes Katowice. Gliwice is located in the southern Poland voivodship of Silesia.
Geographically, Gliwice lies on the Katowice Upland and is bisected by the Klodnica River.
HISTORY
The history of Gliwice began in the 13th century when it was officially declared a town, and some time later it became a bishopric too. Originally ruled by Opole Dukes, in 1526 it passed to the rule of Habsburgs and then 200 years later it became a part of Prussia. It is clear that it has been outside Poland for the greater part of its existence.
The 31st of August 1939 saw a piece of infamous provocation when German soldiers dressed as civilians attacked a radio station in order to pretend that the Polish side had provoked German aggression. It was meant to give Hitler a reason to declare war on Poland, and it led to the outbreak of World War II.
Gliwice became a part of Polish territory once more in 1945.