Goldap
Goldap is a sole spa in the Warmian-Masurian Voivodeship. A unique microclimate, clean air and fango resources attract thousands of bathers and tourists willing to rest in the open air.
Goldap TOURISM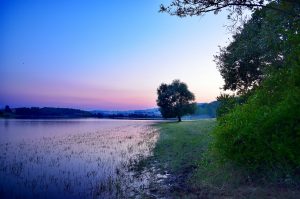 Goldap is a fast-developing tourist and recreation resort in Masuria and the sole spa in this region. It cures motor disabilities, rheumatic diseases, post traumatic disorders, some of the diseases of respiratory and nervous systems as well as gynaecological diseases. Moreover, Goldap boasts of the cleanest air in Poland and is willingly and in crowds visited by tourists both in summer and winter. In the summer season it attracts people with crystal clear lakes and in winter with well-kept ski slopes.
Keen skiers will find here over 2 km ski runs and five ski lifts (including one chairlift). If weather conditions are fine, a luge track (over 1 km long) is in operation, too.
Goldap is also of attraction to history and sightseeing enthusiasts. Worth seeing are especially: St. Mary the Mother of Church's Co-cathedral from 1560, St. Leo's Church from 1894 and two water towers.
While in Goldap you ought to visit also interesting sites in Goldap's neighbourhood, including a mausoleum in Rapa and bridges in Stanczyki.
What else is worth visiting on your trip to Goldap? Well, it's quite a long awayfrom the main tourist destinations in Poland, but if you are going to visit Goldap, you can visit the following:
GEOGRAPHY
Goldap is a town in the Warmian-Masurian Voivodeship as well as a seat of the county and commune. It lies between Szeskie Hills and Romincka forest, by a lake and a river. The town has a population of 13,400.
HISTORY
In 1565 duke Albrecht decided to establish a town of Goldap in order to reinforce this part of Eastern Prussia. It gained the town privilege (and with that a coat of arms and a right to organise four fairs a year) five years later. At first Goldap's inhabitants were mostly Lithuanians and Poles, but later it was Germans who constituted the majority. In the 17th century the town was of rural character, and people made their living mostly on cultivation and cattle farming.
Goldap many times suffered from plagues and was on fire. The first fire broke out in 1623 and destroyed all buildings in the town, except for the town hall. Another catastrophe happened the next year and it was an epidemic of plague, which led to almost complete desolation of the town. Goldap also suffered from wars, including Poland's war with Sweden and Mongol invasion in between 1656 and 1657. By the end of the 17th century there were several fires in the town, and in the beginning of the 18th century troops' marches constituted an obstacle to the economic growth.
In the 19th century troops stationed in Goldap. After the Napoleonic Wars the town remained in peace for about a century. The authorities established Goldap County, which was inhabited by Germans, Lithuanians and Poles. The 19th century was unfortunately not free from catastrophes, either. In between 1831 and 1832 a cholera epidemic broke out and in 1834 a fire destroyed 266 buildings.
In 1871 the town was annexed to the Third Reich and started to grow. New roads and canals were built and railway lines, including the connection between Krolewiec and Elk and the one with Wegorzewo and Zytkiejmy, were established, which made Goldap a significant junction. There were numerous craft works as well as a brewery, a steam mill, glassworks and two paper factories in the town.
World War I brought many destructions. In the interwar period, on the other hand, Goldap together with the whole county was in economic growth. The railway line was expanded and the town was electrified and canalised.
During World War II Goldap was one of the strongholds guarding the rest of East Prussia from the Red Army on the Eastern Front. It was from here that German troops invaded Soviet Russia on 22 June 1941. Only in the end of 1944 the Eastern Front managed to reach Goldap. Eventually, the town was conquered on 22 January 1945.
Goldap quickly recovered after the war. Cooperatives, companies, cultural centres and schools were built here. In the 1960s the terrains were viewed as a potential spa resort and in the early 1980s the minister of health listed Goldap among Polish spas.