Jerzmanowice
Mediaeval castles, limestone formations of the most bizarre shapes, lavish greenery – all this can be found within a short distance of Jerzmanowice. This small village is situated within a short trip from Krakow, in the beautiful region of Jura Krakowsko-Czestochowska.
Jerzmanowice TOURISM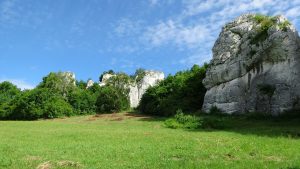 The area of Jerzmanowice is very attractive in terms of tourism and recreation. Jerzmanowice is part of the Krakowsko-Czestochowska Upland, one of the most picturesque regions of Poland. The Ojcowski National Park, with its unique rock formations, lies within a short distance of the village. Near Jerzmanowice is the second highest hill of the region, Grodzisko, at 512 m.
Near Jerzmanowice are many great valleys, rocks, and caves, making this area an excellent holiday destination for hikers and for those who like to spend their time on two wheels. Among the most interesting places in the vicinity is the Bat Cave (Jaskinia Nietoperzowa), where bones of prehistoric bear have been recently found.
However the settlement is rather small and there are only two hotels, plus the parish church of St Bartholomew the Apostle and the St John the Baptist's church. The former was built in the Middle Ages as a wooden temple and later reconstructed in the 19th century, while the latter was erected in the late 17th century together with a poorhouse.
GEOGRAPHY
Jerzmanowice is situated in the vicinity of Krakow, on the area of Olkuska Upland. The village lies near road no 94. The region of the Krakowsko-Czestochowska Upland is a popular holiday destination known for its picturesque rocks topped with castle ruins.
HISTORY
The village was established before 1335, and it was first recorded in documents of 1326 as "Villa Hermani". The name of Jerzmanowice derived from the German masculine name "Herman", later changed into Polish Jirzman or Jerzman. In 1406 the village was called Jirzmanowice and then later renamed Jerzmanowice. In the past Jerzmanowice was property owned by the Polish King.