Kartuzy
The region of Kartuzy is a paradise for tourists who like to rest in a harmony with nature. The town is surrounded by beautiful forests and local meadows, streams and lakes make this part of Kashubia a really charming place for a holiday.
Kartuzy TOURISM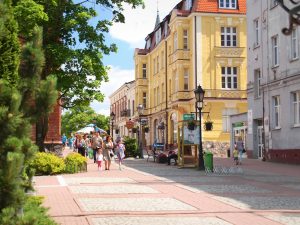 Kartuzy is a paradise for active travellers. Local lakes entourage canoeists and anglers to practise their favourite sports and keen hikers will surely appreciate two picturesque tourist trails: Kartuzy and Kashubia. The town of Kartuzy is also famous for its exceptional monuments. The most interesting are: the 14th century old Kartuzy's collegiate monastery with a copper roof resembling a coffin lid, Hemit "P" from the early 15th century, the sandstone Saint Mary sculpture from 1750 and the medieval monastic refectory from the 15th century.
GEOGRAPHY
Kartuzy is a town in the Pomeranian Voivodeship, located approximately 25 km from Tricity – it is good idea to take a Gdansk tour while your visit in Kartuzy. It lies by four lakes: Karczemne, Klasztorne Duze, Klasztorne Male and Mielenko. An unquestionable advantage of this place is a close proximity to Lech Walesa Airport, which makes it easier for travellers from abroad to come here. Kartuzy Commune with its total area of 205 km2 is one of the largest communes in Pomerania. It is populated by more than 30 thousand people and Kartuzy itself by over 15 thousand people.
HISTORY
The history of Kartuzy begins in the 1380s, when monks from Prague began the building of a monastery here. In 1381 cornerstone was laid to the building of the conventual church. The church was made of cobblestone and brick and built in Gothic style. By now it has been the town's rich cultural heritage. The first records about Kartyzy are from 1391 and are included in the foundation act of Kielpin's parish.
This date is claimed to be the beginning of the Kartuzy's recorded history. Its inhabitants quickly enriched themselves. In 1474 they owned numerous villages (including Gdynia) and estates in Gdansk. The town was twice visited by Sigismund III Vasa, the king of Poland; King John II Casimir was also a frequent guest in Kartuzy.
In the beginning of the 19th century, after the Napoleonic Wars (1815-1819), Kartuzy became a county. The first administrative buildings were erected; municipal, road and railway investments began. A great attention was paid to issues connected with Kartuzy's look since the town was supposed to become a rest and recreation centre. As a result of the Treaty of Versailles from 1919, Kartuzy was joined to Poland. On 29 March 1923 it was given town rights and in July 1923 a coat of arms. In the interwar period Kartuzy was a tourist and gastronomy centre of Szwajcaria Kaszubska (English: Kashubia's Switzerland). Local restaurants offered delicious regional dishes. The town's dynamic growth was interrupted by the Second World War. On 4 September 1939 Kartuzy was invaded by German troops.
The WW2 was the time of repression and ruthless extermination of Kashubians. Mass extermination of Poles resulted in the formation of a conspiracy movement. German occupation ended on 10 March 1945 with the Red Army coming to Kartuzy. After the war the town quickly recovered. In May 1945 a Public Library was erected here. It was the first library in the former Pomeranian Voivodeship. In May 1947, on the other hand, the Kashubia Museum was opened and by now has been presenting a rich heritage of Kashubia's culture.