Krasnobrod
Krasnobrod is a popular Polish resort. In the summer season tourists like to rest and relax by the Wieprz river and in the winter they practise skiing on Chelmowa mountain (approximately 500 meters above sea level). The town may also boast of many interesting monuments, which attract history enthusiasts.
Krasnobrod TOURISM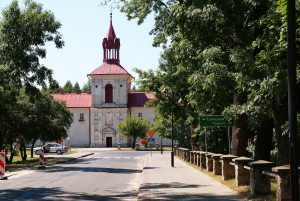 Krasnobrod may boast of many fascinating monuments. The most interesting are: the Visitation Church, a former Dominican monastery and the Leszczynskis' Palace. This palace complex holds a rehabilitation sanatorium for children, in which upper respiratory tract and musculoskeletal system diseases are treated.
While in Krasnobrod, you should also visit Sacral Art and Harvest Wreath Museums as well as the old and the new Jewish cemeteries. You can also take a trip to Lublin to admire even more monuments.
GEOGRAPHY
Krasnobrod is a town in Lublin Voivodeship, in Zamosc County and by the Wieprz River. It is populated by approximately 3,100 people. The town lies within the area of Krasnobrod Landscape Park.
HISTORY
The first records about Krasnobrod are from 1576, i.e. when it was given the town rights by king Sigismund III Vasa. The town had many owners; the first proprietors were the Lipski family and the latter the Leszczynski, Zamoyski, Tarnowski, Jackowski and from 1880 Fudakowski families.
In the second half of the 17th century Krasnobrod was completely destroyed. During one of the Tatar conquests, the town together with the local wooden church was burnt. Krasnobrod re-obtained town rights in 1763.
As a result of the First Partition of Poland, the town was joined to Austria and in 1809 to Lublin department of the Duchy of Warsaw (check our Warsaw tours). Only the Congress of Vienna rejoined Krasnobrod to the Kingdom of Poland.
On March 24, 1863 a battle between Marcin Borelowski's division and the Russian army took place near Krasnobrod. The event was commemorated by the erection of the Silesian Insurgents' Monument in the local cemetery.
During the First World War, in June 1915, the battles between Russians and Austrians were fought and during the Invasion of Poland the ones between Polish and German armies took place. Krasnobrod used to be occupied also by Soviets.
During the occupation, partisan divisions of the Home Army (Polish: Armia Krajowa) and Peasants' Battalions (Polish: Bataliony Chłopskie) fought here. On 5 July 1943 the town was pacified and desolated by Germans. A year later it was conquered by the Red Army.