Krynica Morska
Krynica Morska is claimed to be one of the smallest towns in Poland. Situated on a tiny part of the Vistula Spit, surrounded by waters of the Baltic Sea and Vistula Lagoon, it has been the most popular holiday destination for ages. Due to its specific microclimate, rich-with-Iodine sea air and wide sandy beaches with high dunes, Krynica attracts lots of tourists every year.
Krynica Morska TOURISM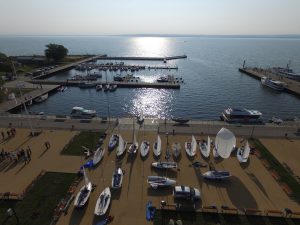 Krynica Morska is the main tourist destination by the Baltic Sea and is annually visited by thousands of travellers from Poland and abroad. Local beaches are adjusted to everyone's personal needs. You may borrow water sport equipment, have fun on waterslides or simply rest in beach bars. Increasingly popular are wild neighbouring-to-Krynica villages; tourists value especially Piaski and Przebrno.
Krynica Morska is not only a perfect place to spend summer holidays in, but also an ideal destination for nature lovers. From Wielbladzi Garb (English: Camel's hump), the highest dune in the area (48,5 m above the sea level), you will admire the panorama of the whole region. You won't be disappointed also with Beech Reserve, where you will have a chance to meet fallow deer, foxes, boars, raccoon dogs and many bird species.
Worthy a visit are also monuments; for instance, the 20th-century-old town streets and the lighthouse from 1895.
Krynica Morska attempts to become a spa resort. Mineral waters of the town draw thousands of people suffering from health problems.
GEOGRAPHY
Krynica is a small town by the Baltic Sea, populated by 1,346 people. However, the visitor number increases greatly during summer season. Its humid climate and Iodine-rich seawater draw thousands of tourists each year.
Krynica Morska is well-located; it is easily reachable both by a car and ship. It is also a good starting point to Frombork, Elblag, visiting Gdansk, sightseeing Teutonic Castle in Malbork and Cormorant Reserve in Katy Rybackie.
HISTORY
The history of Krynica Morska begins already in the Stone Age. From time immemorial there was a trade route from Gdansk to Sambia. In the 13th century the region was inhabited by the Slavic Peoples of Pomeranians and Prussians.
Kahlberg's growth and development started around 1840. It was the time of founding a consortium on sailing on Vistula Lagoon and buying two large steamboats, Sokol (English: Falcon) and Jaskolka (English: Swallow), from Englishmen. Steamboat cruises drew crowds of tourists, which encouraged consortium to build the first villa in the village. From then on Kahlberg was developing; new houses were built, a pier was erected and an establishment providing hot water baths came into existence.
The resort's development was suppressed by warfare. After 1945 the town couldn't regain its former splendour and was treated solely as a fisher's settlement. A breakthrough came 13 years later. In January 1958 Krynica obtained the rights of a housing estate and became known as a holiday resort. On April 2, 1991 it received town rights.