Kutno
This medium-size provincial town situated half-way between tourist attractions of Warsaw and  medieval city of Torun is known predominantly as an important railway junction, a place to change trains while travelling across Poland. However while Kutno cannot pretend to aspire to the list of most interesting towns of Poland, it has several sights worth investigating.
Kutno TOURISM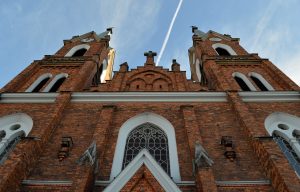 Currently Kutno is a 50-thousand people industrial town, but it retains its ancient layout with two market squares, and a 19th-century town hall housing the Regional Museum. The Old Town of Kutno is being restored and is improving, step-by-step.
Among other interesting places there is former inn from the 18th century and a historical railway station. You should also visit the Gieralty palace, surrounded with a relaxing park and the Museum of the Bzura Battle, which collects and displays mementos, photographs, weapons and documents from the sorrowful days of September 1939.
Kutno takes pride in the many famous people who visited the town, among them the Polish king Augustus III, Napoleon Bonaparte, Polish writer and Nobel laureate Henryk Sienkiewicz and Charles de Gaulle.
GEOGRAPHY
Kutno is located in the Lodz Voivodship, 120 km west of Warsaw and 50 km north of Lodz. It is lies on the Ochnia River and, interestingly enough, it is very close to the geographical centre of Poland.
HISTORY
Kutno can boast a long history: first mentioned in 1301, it received its city rights 41 years later. From the 15th century Kutno was an important settlement of Polish Jews, but the city underwent a series of tragic events in the 18th century when a fire destroyed it almost completely. Kutno's prosperity was rekindled in the 1860s after opening a railway line opened between Warsaw and Bydgoszcz, gradually turning the town into an industrial centre.
During World War II Kutno became the scene of the largest battlefield in the fight between the Polish and the German forces during September Campaign (1939). After fighting for thirteen days, the Polish troops had to withdraw.