Lidzbark Warminski
Lidzbark Warminski is a middle-sized town in the Warmian-Masurian Voivodeship, located approximately 50 km from Olsztyn (the capital of the voivodeship) and 40 km from the border with Russia. The town has a very interesting history. In 1807 one of the greatest Napoleonic wars took place here. At present, Lidzbark Warminski is famous for its wonderful monuments and cultural events, which annually attract thousands of tourists.
Lidzbark Warminski TOURISM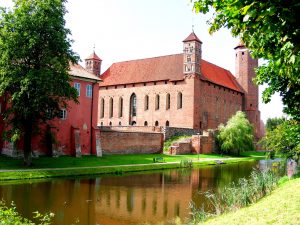 Lidzbark may boast of many monuments. One of the most interesting places in the town is a castle of Warmian bishops from the 14th century, which is claimed to be one of the most valuable gothic architecture monuments in Poland. In the past the castle was visited by Nicolaus Copernicus, Ignacy Krasicki and Napoleon Bonaparte among others.
The second worthy of interest monument in Lidzbark is St. Peter and Paul the Apostles Collegiate Church from 1315. It is a neo-gothic building, which in 1698 was rebuilt in the baroque style and in the 1870s again converted to gothic. A fascinating place is also Krasicki's Orangery, i.e. a baroque-classicist garden pavilion from the early 18th century. The orangery was originally built for the Bishop Teodor Potocki but in 1770 was taken up by Ignacy Krasicki.
For Bishop Krasicki the building was upsized. A few rooms were added, the shape of windows was changed into oval and the front elevation was uninfected. Other interesting monuments in Lidzbark Warminski are: the Feast of the Cross Church erected in the beginning of the 18th century as a votive offering for the end of plague epidemic, a Tall Gate from the 15th century, curtain walls and the neo-gothic town hall from the 19th century.
Lidzbark Warminski is worth visiting not only because of its numerous monuments, but also due to many interesting attractions and events it organises. They are, for example, Piotr Szwedes's (Polish actor born in Lidzbark) Star Constellation (Polish: Gwiazdozbiór Piotra Szwedesa), i.e. a charity concert of Polish famous singers and a reconstruction of the Battle of Heilsberg, i.e. the recreation of one of the greatest Napoleonic Wars from June 1807.
Lidzbark Warminski is also famous for organising cabaret events. The town is most willingly visited by tourists in August, September and November, for it is then that Lidzbark's Evenings of Humour and Satire (Polish: Lidzbarskie Wieczory Humoru i Satyry) and Lidzbark's Cabaret Wars (Polish: Lidzbarskie Starcia Kabaretowe, eLeSKi) are held.
GEOGRAPHY
Lidzbark Warminski used to be the capital of the Warmia region, but currently it is just one of many middle-sized towns in the Warmian-Masurian Voivodeship, populated by approximately 16,000 people. The town is situated about 50 km north from Olsztyn and 25 km from Bartoszyce, in the fork of the Lyna and the Symsarna rivers and on the three mesoregions: Sepopol Lowland, Olsztyn Lakeland and Gorowskie Hills. It takes about an hour of driving to reach Hitler's headquarters in Gierloz (Wolf's Lair).
HISTORY
Lidzbark Warminski is a very interesting place in terms of history. The first records about the town are from 1240, i.e. the year when Lecbarg (then-name of Lidzbark) was conquered by the Teutonic Knights. For many years the town remained in the hands of the Order. In 1245 it was given to Warmian Bishop Anzelm and in 1308 it received town privileges from Bishop Eberhard from Nysa.
The real economic boom of the town took place after the local castle had been chosen as a seat of bishops. The castle became an administrative, judicative, cultural and educational centre. It was the school, the legistation place and the centre of the town's cultural life.
In 1440 Lidzbark was annexed to the Prussian Confederation, and on the Congress of Elblag its inhabitants declared a war to the Teutonic Order. The Thirteen Years' War began, during which Poland's allied Czech's forces stationed in the castle. With the decision of the Treaty of Torun from 1466, Warmia was joined to the Kingdom of Poland.
As a result of the First Partition of Poland in 1772, Warmia was joined to Prussia, which caused the town's economic crisis. On 10 June 1807 the Battle of Lidzbark Warminski, or actually the Battle of Heilsberg (then-name of Lidzbark Warminski) took place here. Because of its location, the town became a main command centre of Russians and Prussians against the French.
With time the medieval fortifications of Lidzbark were demolished. The new buildings, however, were erected, like the evangelical church (1821-1823) and the town hall (1903). The town was ceded to Poland only after the end of the Second World War. Then heavily damaged, now it experiences tourist and economic growth