Lukta
Lukta is a charming Masurian resort situated about 20 km from Ostroda and 30 km from Olsztyn. The location provides quick access to all the "big city" activities while guaranteeing typical countryside tranquillity, making it a perfect destination for both active and leisure visitors. Since it lies near Isag and Morag Lakes, Lukta is a paradise for water sport lovers or keen anglers.
Lukta TOURISM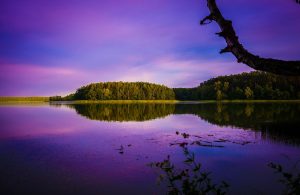 Although Lukta is quite small, it boasts some places of interest. Most crucial is the Gothic Church from 1407 with a Renaissance altar and a 400-year-old granite holy-water basin. The nature reserves also warrant exploration. The most recommended are Taborskie Pines (Sosny Taborskie) with 250-year-old local pine species, and the lime-tree island on the Morag Lake with numerous old lime-trees and a great number of cormorants and grey herons.
Although it is an agricultural hub, Lukta has become a cultural focal point with events that are famous nationwide. The most popular are the Exhibition of Folk Handicraft (Wystawa Rękodzieła Ludowego) and Family Days (Dni Rodziny). The former is held annually just before Easter, where talented painters and sculptors present their crafts. These events keep the old Polish culture alive by passing on near-obsolete handicraft techniques to the younger generations. Family Days, organized in summer, are very popular with children and parents. Performances and contests are held for the families. Although this festival only started a few years ago, it has already become a tradition for people in the area. It is an event not to be missed.
Even though tourism is not very developed in this area, Lukta is becoming increasingly popular. The typical countryside tranquility and close proximity to clear lakes attract those who treasure harmony with nature.
GEOGRAPHY
Lukta is located in the Warmian-Masurian Voivodeship of Northern Poland. It lies in the Lukta river valley within close proximity to Isag and Morag Lakes. Its coat of arms is five cattails (a type of wetland plants) rising from water. Only a few are aware that the symbol is connected to the village's location and the five main roads leading to Lukta.
Lukta is a sizable village with a population of 1,000. However, the visitor number increases significantly during the summer season. Due to its unique microclimate and close proximity to crystal clear lakes, Lukta attracts many tourists every year.
HISTORY
The first records of Lukta come from 1340. In 1352, the village was given its charter. Its history dating back to the 14th century means Lukta is now considered as one of the oldest areas in Warmian-Masurian Voivodeship.
In 1414 Lukta was devastated by the Polish army and during the Thirteen Years' War (1454-1466) it became completely desolated. From the 15th century the village began to develop again: people started to work in skilled professions, and new estates and schools emerged. Unfortunately, early 18th century was a tragic period for Lukta's inhabitants. Most were killed by the so-called Black Death between 1709 and 1710.
Fortune returned again in 1783 when Lukta was instated as a royal village. During this time, there were only 33 houses, but in the 1820s the area was already inhabited by 212 people and a century later – by 780 persons. After the Second World War the place became the administrative center of the district with the population of 733. Currently, it has a population of 1,000.