Ogrodzieniec
Ogrodzieniec is a picturesque tourist resort located on the Trail of the Eagles' Nests (Polish: Szlak Orlich Gniazd). You will find many interesting monuments here and active visitors will surely appreciate the beauty of local landscapes during walk or bike trips. Ogrodzieniec offers also entertainment; in the town's neighbourhood there is the Miniature Park, in which you may admire all castles of the Trail of the Eagles' Nests in the 1:25 scale.
Ogrodzieniec TOURISM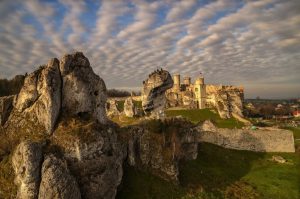 Ogrodzieniec is an important tourist resort situated on the Trail of the Eagles' Nests, i.e. the trail on the road from Krakow to Czestochowa with numerous ruins of castles and fortresses (the so called Eagles' Nests). Moreover, there is the Trail of Jura Fortresses (Polish: Szlak Warowni Jurajskich) going through the town centre. Ogrodzieniec may boast of many interesting monuments, such as: Transfiguration of Jesus Church from the 18th century, ruins of gunpowder depot from the 19th century as well as the town hall from the 17th century.
Nearby Ogrodzieniec, in Podzamcze, there is Ogrodzieniec castle. It is a very interesting monument, shrouded in mystery and connected with many legends. According to some paranormal phenomena researchers, it is haunted. It is claimed that the Black Dog from Ogrodzieniec shows up at nights. It has burning eyes, is huge and carries a heavy chain. The ghost is supposed to be the soul of Krakow Castellan Stanislaw Warszycki. Numerous Polish movies and series were filmed in Ogrodzieniec castle.
GEOGRAPHY
Ogrodzieniec is a town in the Silesian Voivodeship, in Zawiercie County. It is situated at the altitude of 390-420 meters above the sea level, on the boarder of Coal Fields of Dabrowa (Polish: Zagłębie Dąbrowskie) and in the middle part of Krakow-Czestochowa Upland. In the town centre Voivodeship roads no. 791 and 790 cross. Ogrodzieniec is a small town with a total area of 28.56 km2 and population of 4.400.
HISTORY
The first written records about Ogrodzieniec are from 1346, but the town probably existed already in the 11th century. Ogrodzieniec's location fostered the development of trade, which was of interest mainly to Jews. In the 13th and 14th centuries there were big game huntings organized in the local wildlands.
In 1795 Ogrodzieniec was a part of Austria and from 1815 of the Russian Empire. During the Second World War, on 8 October 1939, this area was joined to the Third Reich. During the Nazi occupation of Poland, it was planned to change the town's name to Bonerburg (the Boner family owned the Ogrodzieniec castle in the 17th century) but this change never went into effect.