Plock
This picturesquely located city was the first capital of the Masovia province and for a short period it was even Poland's capital. It is one of the oldest towns in Poland with a thousand years' worth of history, and nowadays is a significant centre of the oil industry. Famous for possessing the oldest Polish high school, the oldest museum, the sarcophagus of two of Poland's rulers as well as the Wisla Plock handball and football teams, it still attracts many tourists visiting Masovia.
Plock TOURISM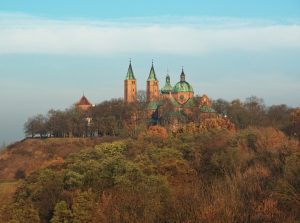 The city has a very long history that amazingly links traditions with the achievements of modernity. Being one of the oldest settlements in Masovia, it has many reasons to be proud of having the oldest high school in Poland, currently known as Malachowianka (named after famous Polish politician Stanislaw Malachowski) and founded in 12th century; or the Masovian Museum with the richest collection of secession art in Poland and opened in 1821; or the 12th century cathedral basilica – rebuilt in 16th century after a large fire.
Beside the old churches and museums, Plock has also a famous zoo where you can admire the largest collection of poisonous snakes and monkeys anywhere in the country.
With the Orlen refinery, it is the heart of the oil industry in Poland. This makes Plock attractive for investors and lures many business people.
GEOGRAPHY
Plock is situated in the northwestern outskirts of Masovian Voivodeship, on the borders of two macroregions: Plock Valley and Dobrzynskie Lakeland. The city lies on the Vistula River and has arguably the most scenic view of the river anywhere as it was built on a steep slope and the main part of the city is located on the higher, right hand riverbank. Plock today has about 126,000 inhabitants, mainly living in 21 housing estates.
HISTORY
Plock obtained municipal rights in 1237 but it existed before this as a fortified burg – even as early as 10th century. In the beginning it was a seat of Masovian bishops, and during the years 1079-1138 (under the reign of Ladislaus Herman and his son Boleslaus III the Wrymouth) Plock became a capital city of Poland.
After the death of Boleslaus III, the dukes of Masovia established their seat in the city. Through the many decades that followed, Plock was attacked and burnt by Lithuanians and Ruthenians several times, but when Casimir the Great took control over the city in 1351 it gained a new Gothic castle, a parish church and new fortifications. During the 15th century, Plock was one of the most important supply bases in the war against the Teutonic Knights.
The following centuries brought fires and epidemics that weakened the city, especially from the Swedes in the 17th-18th century, the French in 19th century, and the Russian and German armies that robbed and destroyed it until the end of World War II. Respect for history and tradition make today's Plock a leading city of the region.