Sorkwity
The small but extremely attractive village of Sorkwity is mostly visited during the summer, when the Masuria area offers great conditions to enjoy water sports and to admire picturesque landscapes inhabited by wild birds and animals. Even after the season Sorkwity remains a popular destination, with its amazing English-style hotel that also hosts conferences and business meetings.
Sorkwity TOURISM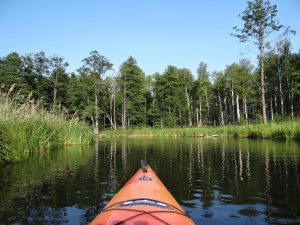 Sorkwity attracts with its excellent range of activities available to you during your holiday, including all kinds of water sports and especially canoeing. The "Krutynia" canoe trail passes through here, continuing on for over 100 kilometres of this beautiful region of Masuria. The Krutynia trail is probably the most favourite water trail in Poland.
Apart from active leisure, you can also visit a fairy-tale castle now turned into a hotel, a church from the turn of the 15th and 16th centuries and an interesting 19th century viaduct. In the nearby towns and villages (Mragowo, Mikolajki, Reszel, Gierloz) there are many other attractions waiting for you to discover.
GEOGRAPHY
Sorkwity is located in the Masuria Lakeland, a picturesque region of a thousand lakes about 50 km east of Olsztyn and only 10 from the popular summer resort of Mragowo. The village lies on a narrow strip of land between two lakes – the Gielad and the Lampackie.
HISTORY
The village was founded by a High Master of the Teutonic Order, Winrich von Krinpode, in 1379. Originally it played strategic role, and while it changed owners several times it remained German most of the time. Until 1945 it was known by the name Sorquitten.
The first mansion was built there in the late 18th century, and then in the mid 19th century it was reconstructed by Juliusz von Mirabach in the Neo-Gothic style. The Mirabach family owned the area from the early 19th century. The palace, situated near Lake Lampackie, was surrounded by a great park. Damaged during World War I, it was restored in the 1920s by a nephew of the last Mirabach – Baron von Paleske.
Since the 1990s, the palace has been a private property and serves as a hotel.