Suprasl
Suprasl is a town and a seat of the commune in the Podlasie Voivodeship, located approximately 17 km from Bialystok. A unique microclimate, clean air and fango resources attract a lot of tourists every year.
Suprasl TOURISM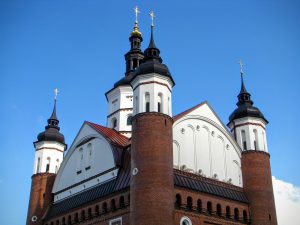 Despite its small size, Suprasl boasts of many monuments. While in here you ought to see: the Monastery of the Annunciation, the neo-baroque Holy Trinity church from the second half of the 19th century, the neo-gothic Evangelical Church of the Augsburg Confession from 1870 and Zachert's manor.
A very interesting building in Suprasl is also the Buchholtzs' Palace, which is now the seat of an art school. In the turn of the 20th century it was the property of one of the most famous families in Suprasl. Inside there are polychromes, woodworks, stucco and iron Art Nouveau staircase. There is also a park near the palace. It is the only one Art Nouveau garden in the Podlasie Voivodeship.
GEOGRAPHY
Suprasl is a town and a seat of the commune in the Podlasie Voivodeship and Bialystok County, with the population of approximately 4,700. The town lies by the Suprasla River, on Bialystok Plateau. Suprasl is a seat of the Knyszyn Forest Landscape Park.
HISTORY
The first records about Suprasl are from 1501. From the very beginning the local monastery was the most important building here. It was around it that settlements were erected and the building itself was a significant cultural centre in Russia. Its importance was also stressed by the fact that in 1582 it was visited by Bulgarian patriarch Gabriel and in 1590 by patriarch Jeremiah II. In 1695 the monastery's printing office was established and in 1711 a paper mill was erected. It was the first such institution in the eastern Poland. There were secular books in Latin and religious books in Church Slavonic printed here. Unfortunately, in 1796 most of the monastery's goods were confiscated by Prussian authorities.
Until 1807 Suprasl was a seat of the Bishopic of Unites, but after the Treaties of Tilsit it was joined to Russia and Russian authorities gave the local monastery to Orthodox monks. In 1834, after Russian authorities had imposed duty on foods imported from the Kingdom of Poland, there appeared first clothing manufactures and weaving works, which produced cloths mainly for the Russian market.
Suprasl was given town rights in the first half of the 19th century, but soon lost them for the benefit of neighbouring, fast-growing Bialystok. The authorities of the Second Polish Republic gave the abandoned Suprasl monastery to the Roman-Catholic church. After the WW2 the monastery became a seat of the farming school and in the 1990s it was given to the Orthodox Church. Currently, it is a seat of the Suprasl Academy.