Wadowice
Wadowice is a picturesque town, famous for being a birthplace of Pope John Paul II. Situated among hills and woods of the Lesser Poland Voivodeship, it annually attracts tourists wishing to rest and relax. An unquestionable advantage of Wadowice is also its location in a close proximity to Krakow. Hence it is a good idea to go to Krakow for a trip.
Wadowice TOURISM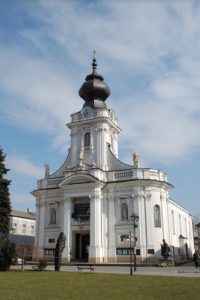 Wadowice may boast of many interesting monuments. Being here, you should visit: minor basilica of the Presentation of the Blessed Virgin Mary from the 18th century, Pope John Paul II's family house converted into museum, Discalced Carmelites Monastery and St. Joseph Sanctuary from 1899 as well as classicistic Mikołaj manor from the 19th century. Interesting are also newly erected memorials: the statue of John Paul II from 2006 and Katyn cross from April 22, 2010.
GEOGRAPHY
Wadowice is a capital of a county, located in the Lesser Poland Voivodeship and populated by 19 000 people. The town lies on Silesian Foothills (Polish: Pogórze Śląskie), by the Skawa river. The climate in Wadowice is diversified, with sudden weather changes.
HISTORY
The first records about this region are from 1325 but the town itself was for the first time mentioned two years later. In 1430 there was a great fire in Wadowice. In order to rebuild the town Casimir I (the Duke of Oswiecim) gave Wadowice Chelm rights, which brought many benefits to its inhabitants. They were freed from all the duties paid to the duke for six years and were given permission to clear the woods and fish in Wednesdays and Fridays.
In 1802 the commune became the free town. In the beginning of the 19th century Wadowice covered the area of 3 380 km2, 10 towns, 2 settlements and 340 villages.
On May 18, 1920, in the house in Koscielna 7 street, Karol Wojtyla (later Pope John Paul II) was born. His pilgrimages to this town (in 1979, 1991 and 1999) made Wadowice one of the best known places in Poland.
During the German occupation of Poland, Wadowice was joined to the Third Reich and its name was changed to Wadowitz.