Experience more from Krakow: uncover Poland's riches with StayPoland's day trips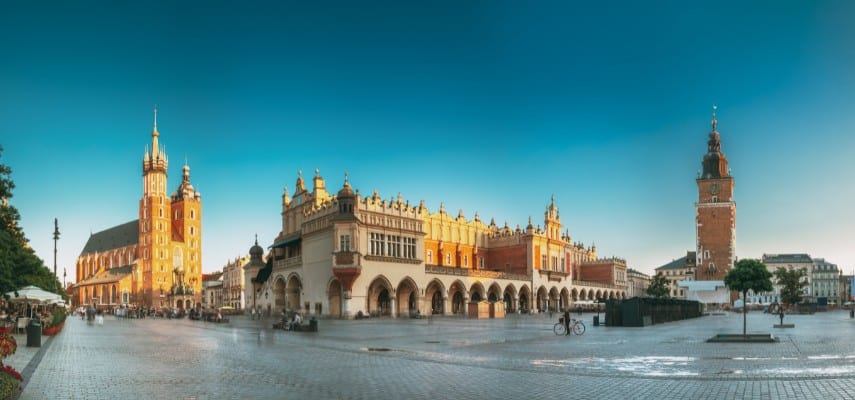 Greetings from the heart of Poland, the spellbinding city of Krakow, where every stone-laden path speaks volumes of its ancient heritage and every innovative edifice resonates with promises of tomorrow. Krakow, gracefully unifying elements of bygone eras with the dynamic vibrancy of today, proudly stands as a testament to Poland's multifaceted saga, steeped in rich history and timeless allure.
Navigating the labyrinthine lanes of the Old Town, standing in awe before the grandeur of Wawel Castle, or losing oneself in the effervescent rhythm of the city squares isn't merely an act of tourism. It's a trans-temporal voyage, a firsthand encounter with Krakow's past and present, through which one can appreciate the pulsating life force that powers this radiant city.
Yet, Krakow is more than just a stand-alone narrative of Polish heritage; it serves as a gateway to the numerous untold stories of Poland's historical tapestry. At StayPoland, we've intricately woven a series of engaging sojourns that promise to expand your exploration beyond the city's illustrious boundaries. Our tailor-made tours are gateways to Poland's rich cultural mosaic, breathtaking natural vistas, and captivating chronicles.
As you make lasting memories in Krakow, we cordially invite you to delve deeper into the annals of Polish heritage. Embark on soulful pilgrimages, thrilling river escapades, subterranean adventures in historical mines, and invigorating treks across towering peaks. Our meticulously curated tours aim to expand your perspective and foster a deeper bond with our remarkable land. So, are you ready to embark on this immersive journey with us?
Let's delve into the selection of day trips, each offering a unique perspective of Poland's cultural and natural bounty.
Embark on a journey back in time through Krakow's Old Town with our experienced guides. Revel in the Royal Route's captivating history, marvel at the medieval square's grandeur, and visit the Sukiennice cloth hall and the Church of the Virgin Mary. Tailor this private tour to your interests for a truly personalized experience.
Discover the life of John Paul II, from his Krakow residence as Archbishop to his birthplace in Wadowice. Trace his steps, feel his influence, and immerse yourself in a spiritual journey that celebrates this influential figure's enduring legacy.
Venture beyond Krakow to the untouched wilderness of the Dunajec River. Soak in the awe-inspiring views of the Trzy Korony and Mt. Sokolica from a traditional wooden raft, as you unwind in the heart of nature.
Journey into the depths of the Wieliczka Salt Mine, a UNESCO World Heritage Site. Marvel at the ethereal salt-carved chambers and chapels, an underground marvel that promises to leave you spellbound.
Rise to the heights of the Tatra Mountains in Zakopane. From stunning vistas atop Mt. Gubalowka to charming highlander cottages, experience the unique cultural landscape of this mountainous region.
Unravel the rich tapestry of Jewish heritage in Krakow. Visit prominent Jewish sites, including the Old Synagogue, Remuh Synagogue, and Plaszow, the former Nazi Concentration Camp.
From Krakow to the corners of Poland, StayPoland invites you to broaden your perspective and enrich your travel experience. Venture beyond the city, explore the hidden gems of Poland, and let every day in this fascinating country become an adventure you'll cherish forever.