How to travel safely in Poland during the pandemic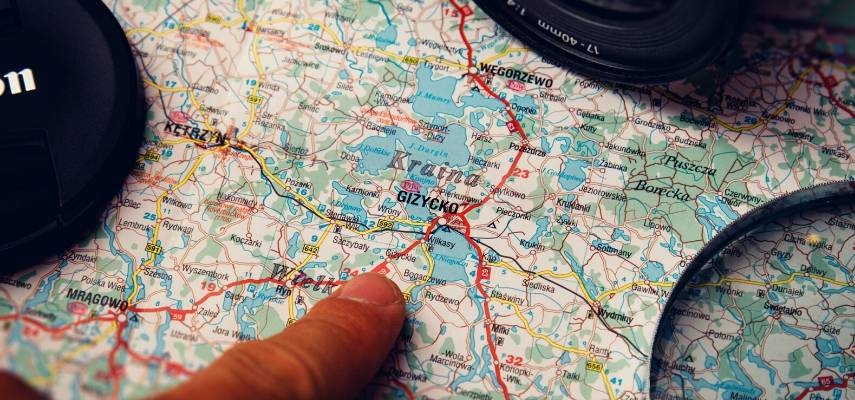 More and more European countries are gradually loosening border controls, trying to alleviate the effects of the recession and enable the start of the tourist season. What's the situation in Poland? The difficulties in border crossing (mostly for the non-EU citizens) remain until June 14, 2020, but this date may be extended. It means that we will spend more weeks of waiting for your arrivals, for this pleasant urban hustle and the colorful crowds of all ages, absorbing the history of our country.
But nothing lost! It's good to use this free time for careful trip preparations and, also importantly, to familiarize yourself with the security procedure that will be obligatory in the coming months. Check the latest list of Polish regulations and restrictions, and learn how to be a responsible tourist.
Head above the clouds? Security in the airplane.
From June 1, Polish Airlines LOT will resume some domestic connections, including routes from Warsaw to Gdansk and from Warsaw to Krakow. What changes will you see onboard? You will be required to cover your nose and mouth during the journey. The crews will be equipped with disposable masks and gloves, too. The only exception is the time of eating, where meals will be served in individual packages. The baggage allowance will also change – tourists will be able to take on board one piece of hand luggage with dimensions of 55/40/23 cm, with increased weight up to 10 kg.
Please don't stand so close to me. How to behave in hotels
Polish hotels are known for their high-quality services and safety, but from May 4, 2020, they must strictly meet the additional requirements of the sanitary regime. This means that your stay in the hotel will look slightly different than it used to be:
minimize the time spent in public areas of the hotel and personal contact with reception – it will be safer to call or send an email; if you need to stay in
public areas, remember to move around with a mask covering your mouth and nose;
keep the required distance between other people (a minimum of 2 meters);
wash your hands regularly or use disinfectant liquids and other direct protective equipment that every hotel is equipped with;
recreational and leisure zones, such as spas, swimming pools, saunas, gyms or discos may be closed; however, you can use the services of beauty salons, and hair salons – detailed information about the function during the pandemic can be found directly in the service providers;
your hotel can suspend or limit additional services that would increase the risk for you and the staff, like luggage or laundry service
Remember: If you are in quarantine or have had contact with patients with Covid-19, cancel your arrival to the hotel and try to move your booking to a new, safer date.
Welcome to the (urban) jungle. How to survive in cultural institutions and other tourist attractions
Cultural institutions such as museums and art galleries, as well as tourist information points, were also opened on May 4. In the interests of tourist safety and service, additional procedures and activities have been implemented to ensure maximum protection for visitors:
there are limits for people staying in the same building and zones for safe contact between tourists and staff – remember to keep a proper distance (minimum 2 meters) from other travelers and avoid contacts with commonly touched surfaces, like desks, walls or sitting places;
some institutions have provided temperature measurements – people with apparent symptoms will not be allowed to enter the building;
regularly used surfaces such as door handles, elevators, toilets or payment terminals will be routinely disinfected;
there will be a reduction of contact time spent between visitors and staff – guided group tours are not available yet;
Eating time. What you need to know about restaurants.
From May 18, you can finally eat outside (not only takeaway) in bars, cafes, and restaurants.
Restaurant owners must provide safe distances and hygiene measures for guests and regularly disinfect sitting areas. Like in the airplane, the staff – chefs and waiters – should wear masks and gloves, but guests can take them off after taking their seats. People who are waiting outside for a table should keep a distance of 2 meters.
What about hygiene? Hand disinfection is required at the entrance to the eating area. Dispensers with disinfectant liquid are to be located in the dining room area (at the ordering/checkout points) and at the exit from the toilets.
The owners of gastronomic places also have to determine and control the maximum number of guests. According to guidelines, the distance from the end of the top of one table to the end of the top of the other should be at least 1.5 meters or only 1 meter if partitions separate the tables, with a minimum height of 1 m (above the tabletop). The tables will be disinfected after each customer.
Follow the instructions above and minimize unpleasantness during travel. With careful and safe behavior, we will quickly return to pre-pandemic comfort. Let the holidays become the perfect way of spending free time!