Let us make a Polish Dream Tour a tour of your dreams!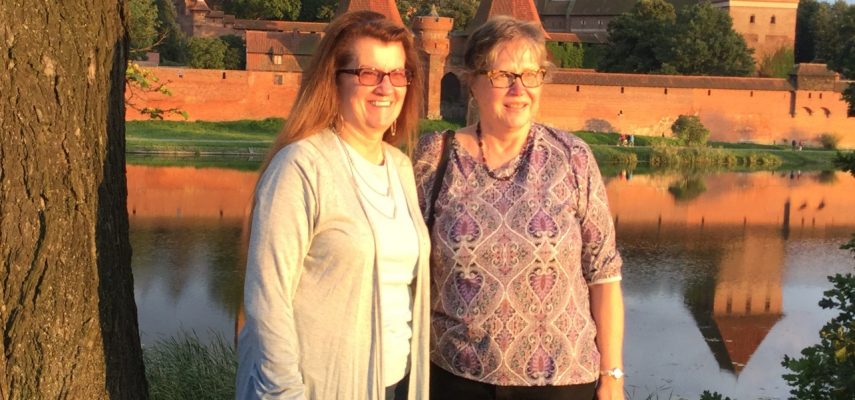 Christine Sopa – one of the participants of our last year's Polish Dream Tour  – had such a great time while traveling that she agreed to share with us her memories. If you are curious about how look our guaranteed tours like and you have a lack of first-hand information about Poland, be sure you don't miss reading Christine's stories!
Why Poland?
I am third generation Polish American. I visited Poland for only 3 days back in June, 2000 (basically between Warsaw and Krakow, with a stop at Auschwitz), while on an Eastern European tour with my parents for their 50th wedding anniversary.  I had always wanted to return to Poland and see it more in depth, and since my traveling partner is also of Polish ancestry, this was the perfect opportunity to fulfill my desire to return again.
Please tell us what was the image of Poland you had had in your mind before coming to Poland? Did the tour to Poland change it? – If yes, was this a change for the better? In what aspects?
I know that Poland is a country that has been thru a lot over it's history, including disappearing entirely from the map for a period of time.  I imagined them to be a strong, hardy people – recovering from so much conflict, rebuilding their country after various occupations and particularly WWII. I knew from my previous Poland visit that it geographically was very similar to my home of Wisconsin, USA; many farms, open pasture, beautiful countryside, lots of green space. Both of my parents grew up on farms in rural Wisconsin, so I felt very at home, very comfortable in Poland. I didn't have a lot of interaction with Poles on my first trip, but the interaction was always cordial. When I travel to a foreign country, I always learn the basic phrases such as "good morning," "please," "thank you" because I believe people respond better when they see you making an effort to speak their language. Did the tour change my image? No. Seeing so much of Poland now, I love it even more.  I feel a oneness with Poland, knowing that my family came from here. I saw the progress that Poland continues to make insofar as acknowledging their past, but moving forward – with progress continuing.

I found that the major cities are like most metropolitan cities anywhere else in the world; modern hotels, good food and drink, ample shopping. What I particularly noticed was the landmarks, be they castles (Wawel, Malbork) or every day buildings. Poland is a country so much older than my home country. I really savored seeing buildings hundreds of years old.

One thing that did "jump out at me" when observing the Polish people, was that I saw my relatives, especially my cousins, in the faces of the native Polish people. Sometimes it was almost chilling, knowing that this or that person was not actually my cousin, but certainly resembled them.
What was your favorite moment while traveling through Poland?
I enjoyed the trip so much, it is hard to highlight a favorite moment as there were so many.  I really enjoyed the smaller towns. I loved the time spent driving on more rural roads. I loved watching the people standing at their tables along the road selling their mushrooms. I loved seeing the small shrines in front of homes and in small towns.

A place that you remember the most is…the lavender farm we visited, and the winery.  At the lavender farm, they prepared a most extravagant lunch for us – so savory, so much food. And the lavender we were able to take home was very much appreciated.

We had SO MUCH FUN at the winery, and I believe Kasia (the tour leader) said because the vitner enjoyed our company so, he brought out extra wines for us to sample. That was a great experience.
Did you have any funny story in Poland you would like to share with us?
My girlfriend and I came into Warsaw a day early to explore the city on our own before the tour started. We had researched the hop on/hop off bus service in Warsaw, and wanted to take advantage of that. We asked the clerk at the hotel check-in desk where we could find the bus, and she gave us a map. We followed the map, and as I got closer to our destination, I remembered seeing the bus pass us the evening before, across the street from a restaurant where we had dined. Unfortunately, we could not find any signage for this bus stop.  There were other signs, but not what we were looking for. Someone had told us if there was a language barrier, to ask a college age person for help as most of them spoke English, so we stopped a young man who was from the Czech Republic, but he knew nothing of the bus. So we walked to where we saw a bus stop enclosure, showing various routes. We waited there, looking at our map, finally deciding we needed to be across the street to catch our bus, so we walked over there.  After a while, we decided this was not the right place either, so we went back across the street.  After about 45 minutes, we did see the bus – well over a block away from us, where we had first stopped, across the street from the restaurant where we had dined. There was no way we could run to make the bus, and we opted to take a taxi to the old town. Happily, we both laughed about our adventure on our first day in Poland.
Do you have any advice or tips for aspiring travelers to Poland?
Do NOT be afraid to go off the beaten path, to explore on your own, even if there is a language barrier. People are willing to assist. There is no denying the exchange rate favoring Americans. That in itself is incentive to return again – the shopping, especially amber, was exceptional. Store after store, billions of pieces of amber in every size, shape imaginable, and not just jewelry – anything you can imagine.  Here again, go off the beaten path to find the unique pieces.
How do you find Poles?
A humble people, but willing to help whenever needed, in spite of any language barrier. Some are more simple, stuck in time – just like my grandma would have been. Most are just like people back home in the States.
What made your stay unique and why should people visit our country?
I think our fellow travelers made our trip unique, everyone being their own individual. The interaction within our group was outstanding. The uniqueness was visiting places I had never been before. There is so much to savor in Poland, aside from the unforgettable Auschwitz and other places/landmarks from WWII.  The churches are outstanding – such incredible structures, many with incredible stories.
Have you been to a place in Poland which turned out to be totally different to how you imagined? If so, how?
I had been to Auschwitz previously, so I knew what to expect, although I must comment – because of the large groups of people visiting, I don't' think the site got as much respect as it should get. If I would return, I would get a private tour. Loved Zakopane, loved the Tatra Mountains. Just breathtaking.
Your favorite food is…
mushroom soup. I had it several times and it was outstanding, especially in a bread bowl. I'm afraid the beet soup didn't agree with me, although I do eat beets at home. I'm sure it was prepared differently from what I am accustomed to. Also, the pierogi were outstanding.
What was the activity you enjoyed the most while being in Poland?
The kayak trip. I do not swim, so I had my reservations, but the ride was so gentle, and the staff so attentive to us. To this day, I can still "feel" the fresh air and the surroundings, the beautiful forests and mountains.
Christine Sopa
Some more pictures taken by Christine: