Dunajec raft trip – a mandatory stop on your itinerary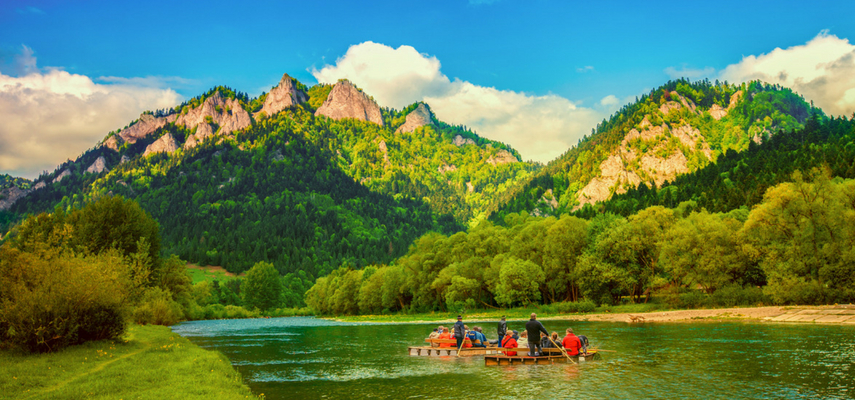 Dunajec raft trip is one of the most popular tourist attractions in polish mountains, especially for those who do not like hiking through the mountains. The tradition of river rafting dates back to the first half of the 19th century. The route starts in Sromowce Nizne or in Katy, which is located 50 km east of Zakopane and 120 km south of Krakow. If your travel itinerary includes visiting Zakopane, Nowy Targ or Szczawnica, we strongly recommend taking a raft trip – unforgettable experiences guaranteed!
Dunajec raft trip gives you an unique experience of interacting with the wild nature. It is also the most convenient way to discover the beauty of the Pieniny National Park. The river snakes among the rocks like a ribbon, giving tourists unforgettable memories. During the rafting you can admire picturesque landscapes: limestone cliffs carved by water and majestic peaks of the Three Crowns or Sokolica Mountain. The rafters also make the trip more pleasant, telling local legends about the famous robber Janosik (the local equivalent of Robin Hood).
Depending on where you decide to start your raft trip, the lenght of the route may be 18 km or 23 km. Duration: 2-3 hours (depending also on the level of the water). The season lasts from April to October. There is no need to reserve tickets in advance, you can buy one on site.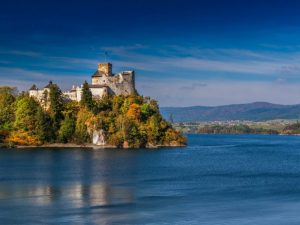 Dunajec raft trip is not the only tourist attraction worth visiting in this area. First of all, we strongly recommend making a stop in Niedzica to see the famous castle, picturesque located on the rock over the Czorsztyn Lake. It was built in the XIV century. There is a legend saying that the mysterious document describing the fate of the lost Inca treasure was found on the castle. Some say that the castle is haunted by the ghost nicknamed "White Lady". More informations about the history of the castle and those legends you can find here.
Another place worth visiting is an unique and charming wooden church that dates back to the 16th century (a UNESCO World Heritage Site), located in Debno.
Both the church in Debno and the Dunajec raft trip you can find in our tour offer – see details on https://www.staypoland.com/tour/217/dunajec-raft-trip/
See you on the rafting!