Why Poland should be your next travel destination?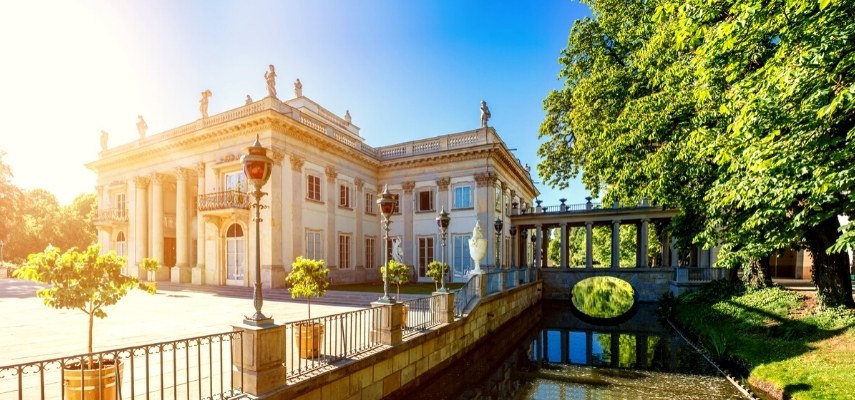 Planning a holiday trip could be not the most straightforward task. The number of offers can often make you dizzy. Searching for a place that will not be crowded with tourists, like Italy or Spain? Consider visiting Poland, which is a perfect destination for vacation or round trips. City-break enthusiasts should also be satisfied – the most attractive Polish cities, such as Warsaw, Krakow, Gdansk, Wroclaw, or Poznan, are well connected with Europe and can be easily reached by plane, train or car.
Why is it worth to visit Poland?
Poland is a country located in Europe's heart, on the border between the world of the West and the East, with its character and unique atmosphere. Wide sandy beaches, varied mountain landscapes, unique nature, as well as over 1000 years of history, reflected in historic buildings and monuments – you will find all this in Poland. Importantly, Poland is a country open to tourists and safe. Poles are known around the world for their hospitality and friendship.
Poland: a diverse country
Its diversity can be seen in the architecture of cities and major monuments. The country's present shape is a result of the mixing and influencing of cultures – German, Jewish, Italian, Dutch, Austrian, and others. We invite you to come and uncover some fascinating links between Poland and your cultures. Even today, you can meet representatives of those colorful national minorities who cherish their traditions and willingly tell all interested people about them. The Kashubian pilgrimage on fishing boats in the Puck Bay, the celebration of the Jewish Purim holiday in the Warsaw synagogue, Romani wedding parties in the atmospheric Tarnow, or the culinary art of Podlasie Tatars are an extraordinary experience, building local color.
Holidays at the seaside in Poland
Many tourists, especially from neighboring Germany, choose to vacation in Poland on the Baltic Sea. Although the weather at the Polish seaside can be capricious, the Baltic beaches in the summer season are usually filled with tourists. However, if you move a little further from the main beach entrances, the crowd suddenly disappears. 
At other times of the year, the beaches tempt numerous walkers attracted by the healthy air filled with iodine. You can also feel like a treasure hunter – try to find some amber, known as the "gold of the Baltic Sea".
If you have decided to stay by the sea and want to come by plane, look for air connections to Gdansk. It is a charming and attractive city with numerous sandy beaches. It is also a great starting point for exploring other nearby attractions, such as Sopot, Gdynia, Kashubia, or the massive Teutonic castle in Malbork.
The land of a thousand lakes – the perfect place to relax
Another popular destination is Masuria. Numerous lakes attract sailors, canoeists, and fishing enthusiasts. History enthusiasts will find here Teutonic castles, structures from World War II (Wolf's Lair), and richly decorated churches (St. Lipka).
But Masuria is not only a dream holiday destination for people who like water activities. It is also an excellent place for nature lovers. The cavernous forests are just perfect for walking or cycling.
Masuria is a good choice for tourists who want to relax away from the hustle and bustle of large, crowded cities. A tourist will find there the possibility of close contact with wild nature and experiencing a simple life in one of the many agritourism farms, known for their hosts' kindness and tasty local cuisine.
Holidays in the mountains
Polish mountains are located along the southern border of the country. The most famous are the Tatra Mountains – a relatively small but extremely picturesque and monumental mountain range. The highest peaks reach 2,500 meters above sea level.
The most famous resort is Zakopane, also known as the winter capital of Poland. The town is located at the very foot of the mountains – hence its name, which means "buried" in Polish. Zakopane offers a complete tourist infrastructure. Depending on your budget you should have no problem finding accommodation.
In winter, Zakopane, with its surroundings, offers many ski slopes, while in other seasons, it is a cult destination for people who love mountain trips. The most popular routes to Giewont Mountain, or to Morskie Oko Lake, are quite crowded in the season – it is usually better to start a trip early in the morning.
How to get to Zakopane? You can easily reach the city by train from Krakow, which is well connected with the world thanks to the Balice airport.
Poland: the country to which one returns
The fact is that most foreign tourists who visited Poland are eager to come back. They leave our country with unforgettable memories, pointing out the extraordinary natural and architectural diversity, as well as the kindness of the Poles.
Poland is becoming more and more attractive every year, and not only because of its competitive prices. The infrastructure is still improving, and numerous cultural and important sports events are being held, drawing the attention of foreign visitors. Poland is also recognized as a safe country for foreign tourists.
Although the most popular destination as Krakow, Warsaw, or Gdansk have a lot to offer, we also encourage you to visit less known and equally beautiful places. Visit Poland and come back home with unforgettable memories!