Limousine pick-up service: airports & railway stations in poland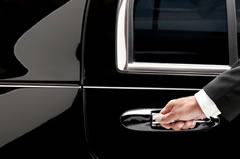 Now you can confirm your arrival arrangements in Warsaw, Krakow, Wroclaw, Gdansk or other cities in advance.
Buy a Tailor-made tour with StayPoland or request a limousine service in one package with a hotel booked at discounted rates via StayPoland, and we will take care that your arrival is smooth and stress-free.
You will be greeted at the airport arrival hall by a driver holding a board bearing your full name. We will deliver you safely to the desired destination (railway station, hotel, or your company's offices) or help you with travel outside the city. If you appoint us as the organizer for your entire stay in Poland, you can request an envelope with items such as your railway tickets, theater tickets or vouchers for more services – your driver can hand this to you, or have it delivered to your hotel.
Airport pick-ups in Warsaw are usually by Mercedes E-Class limousines and in Krakow by quality taxis of various models. At your request, we can also arrange historical cars, such as a Lincoln limo or Rolls Royce. Please contact us for more details.
If you need only an airport or railway pick-up without any tour package, the information below shows how you can organize the transfer yourself. For hotels, please use our Polish hotel reservation system.
PRICES & OTHER DETAILS:
WARSAW
In Warsaw, it is common to take a taxi from the Fryderyk Chopin Airport. The airport is situated roughly 7 km south from the centre. A personalized pick-up at the airport makes it easier to escape the hustle at the airport and have a smoother journey to your hotel.
Click below to view the meeting point plans:
WARSAW AIRPORT – CHOPIN TERMINAL »
WARSAW AIRPORT – ETIUDA (low-cost flights) TERMINAL »
WARSAW RAILWAY STATION CENTRALNA – please wait on the platform
HOTEL – please wait at the reception
---
WARSAW AIRPORT OFFER
ECONOMY SERVICE – LOCAL TAXI STAND
Take the official airport radio taxi company: MERC TAXI. Go to their stand in the arrival hall or call +48-22-677 77 77. The staff should have a basic knowledge of English, while the driver usually do not speak any foreign languages. Price: 40-60 PLN / car.
STANDARD SERVICE BY STAYPOLAND
Personalized pick-up by a chauffeur equipped with a welcome board with your name on it. Mercedes E-class limousine, the driver will have a working command of English. Price: from 100 PLN / car (1-3 persons). If your airplane is delayed, the driver will wait up to 45 minutes. If there is a further delay beyond 45 minutes, we may be forced to charge a fee for each additional hour (15 EUR – compact models). This fee is not required if you notify us of the delay in advance. Limousine service is available only as a part of a Tailor-made tour.
VIP TRANSPORT
Personalized pick-up (languages: English, German, Italian, French, Spanish, and Russian). Chauffeured high-standard limousine: choose from Mercedes S-CLASS or Lincoln. A bottle of champagne per vehicle and a glass for each traveler. All minor requests will be taken care of. Price: from 500 PLN / car.
OTHER ALTERNATIVES
For a normal taxi transfer without our assistance: from WARSAW AIRPORT – CITY CENTRE, you are likely to pay only 25-60 PLN (if you call one of the cheaper taxi companies from the airport, they can park only at the departure platform one floor above). Besides there are also "private driver companies" that approach foreigners in the arrival hall and may overcharge by as much as 150 PLN for a ride to the city center (no taxes included).
To get to the city center by public transport, take Bus #175, which leaves from the arrivals section every 10-20 minutes. The bus goes to the main railway station and the Old Town area. The disadvantage is it only stops at some of the hotels. The price is 3.60 PLN (if you change buses, you must buy another ticket).
CENTRALNA RAILWAY STATION IN WARSAW
A personalized Warsaw Centralna Station pick-up organized by our company will costs from 80 PLN depending on the destination and pick-up hour.
---
KRAKOW AIRPORT OFFER
Balice Airport is located 15 km west from the Old Town area. There are a number of options for getting there.
The most convenient way — especially if you are in a group — is to book a shuttle in advance as a part of a tour package. Our driver will wait for you with a board bearing your name in the arrival hall. We will also provide you with his phone number in case there is any problem locating the driver.
STANDARD – Personalized pick-up, usually with a minivan (e.g. Volkswagen Sharan or Volkswagen Caravelle). Price: from 90 PLN / car (1-4 persons).
VIP – Personalized pick-up. We offer a luxurious Lincoln and a glass of champagne as a welcome drink for each traveler. Price: from 500 PLN / car.
MINIBUS – for larger groups, we recommend pick-up with a Mercedes Sprinter or Iveco. Price: from 300 PLN / vehicle.
OTHER ALTERNATIVES
You can use a local taxi (40-50 PLN) or the private drivers waiting in the arrival hall (no price guaranteed).
You can also use the airport train. The journey takes 15 minutes and the train leaves every 30 minutes.
KRAKOW RAILWAY STATION
The railway station is just next to the old town and if your hotel is not far and luggage not heavy, it's ok to walk. Alternatively there are a lot of taxis in front of the building with various pricing. The cheapest the the "RADIOTAXI".
If you book a tailor-made tour including accommodation in Krakow, we can arrange a personalized pick-up also at Krakow's railway station. Price quote will depend on the hotel.
---
OTHER CITIES IN POLAND
We arrange shuttles in all major Polish cities, such as Gdansk, Wroclaw, Poznan, Katowice, Lodz, Szczecin and Bydgoszcz. We provide transfers with car, van and coach.
We are not able to provide luxurious limousines everywhere, but our cars are always comfortable and clean. The driver will meet you in the airport arrival hall or at the platform of the railway station, and help you with your luggage. Service available only as a part of our tailor-made tours.