Minibus & coach rental in poland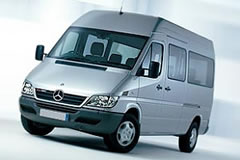 We team up with a large number of companies offering transport, and thus we can provide either brand new and luxurious coaches, or a little older but still comfortable, safe and air-conditioned models if you prefer to keep the costs down.
We offer buses and coaches of various sizes, for example:
Mercedes Sprinter (16 seats)
Mercedes Vario/Iveco (20 seats)
Mercedes Medio (25 seats)
Isuzu Turquise (28 seats)
Setra or Scania Irizar (49 seats)
Man (59 seats)
The minibuses and coaches can be rented in Warsaw, Krakow, Gdansk, Poznan, Wroclaw and other Polish cities.
We are a travel agency specializing in packages. You need to book at least two services to create a package, allowing us to substantiate our service by assuring competitive prices.
To maximize efficiency, please send us your itinerary. Based on this information, we will be delighted to prepare a personalized, competitive offer.
Learn more about our Tailor-made tours.
Make a free request for coach or minibus rental