Study tours and field trips
Are you interested in the complex history of Poland, its ups and downs and the role it has actively or passively played over the last thousand years?
Travel agency StayPoland offers: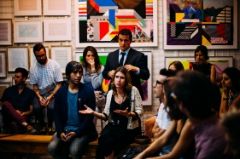 school excursions
study tours
field trips
familiarization trips for journalists or travel business professionals
seminars and small conferences
In the previous century Poland played an important role in many of the historical events that shaped the lives of hundreds of millions of people worldwide, and a field trip to Poland forms a solid base for a better understanding of history.
Poland is the perfect destination for high school, college and university students, teachers or researchers with a keen interest in Eastern European history, sociology, anthropology, theories of culture, Jewish and Holocaust studies or ethnology, ethnography and other related subjects. Besides academic institutions, Poland also attracts various social institutions, public or local associations and travel-related journalists.
We can also arrange seminars and lectures by Polish professors and specialists in the areas of your choice. It is possible to invite for discussion living witnesses of World War II, Warsaw Uprising as well as notable figures of the anti-communist opposition of the 1980s (the Solidarity Movement).
We look forward to hearing about your interests.
If you want to learn more about Polish history, consult our Polish history section.
For more guidance, try our Poland travel e-Books or contact our Tours Department.