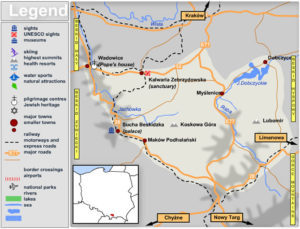 This part of the Beskid Mountains takes its name from Makow Podhalanski, one of the major towns of the region. It is also called Middle Beskid, because of its location in the centre of this mountain range. Other significant towns of the area are Sucha Beskidzka and Myslenice.
The region is often undervalued by visitors and has not gained the popularity of Beskid Zywiecki or Sadecki. Therefore, it can be a good alternative destination if you really want to escape from city life and crowds of tourists. Mild slopes and summits that do not exceed 1000 m (the highest is Lubomir, at 912 m) helps make the area accessible for hikers of all levels. If you prefer less active holidays, the region also has many other attractions.
HOW TO GET THERE
Of all ranges of the Beskid, this one is the closest to Krakow. Myslenice can be easily reached by road E77 (from Warsaw or Krakow), while to get to the other towns of the region (Kalwaria, or farther to Wadowice), take road E77 and then turn right onto the 52. Makow Podhalanski and Sucha Beskidzka lie near road 28. It is also easy to get to Beskid Makowski from Bielsko-Biala. Though a car is the most comfortable way of travelling, it is also easy to get there by train, as Sucha Beskidzka has many connections with the major towns of the area: Krakow, Zakopane, Nowy Targ, and Zywiec, as well as with smaller ones like Makow Podhalanski, Stryszow, Kalwaria Zebrzydowska and Lanckorona.