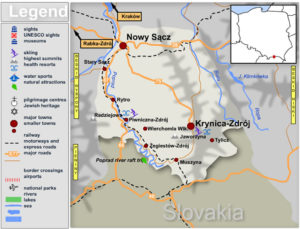 One of the ranges of Eastern Beskid, situated between the Beskid Niski and the Beskid Wyspowy, and spreading out on either side of the spectacular Poprad River that divides it into two parts: the south-western range of Radziejowa and north-eastern of Jaworzyna. Beautiful landscapes, partly wooded slopes, charming wooden churches and a moderately well-developed tourist infrastructure, makes this region an attractive summer destination for hikers, bikers and those looking to relax in one of the numerous spa towns offering mineral spring water.
This region has a rich ethnic diversity and original folk culture, attractive with its abundance of possibilities for recreation for the couple or the family. Its rural charm combined with many interesting small towns and villages just wait to be discovered.
HOW TO GET TO BESKID SADECKI
The biggest town in the area is Nowy Sacz, with direct rail links to Krakow, Zakopane, Stary Sacz and Tarnow, as well as to a number of smaller towns in the region like Krynica, Muszyna, Piwniczna, Rytro and Zegiestow. There are also buses, departing Nowy Sacz for Krakow, Katowice, Warsaw, Zakopane and other large cities. The combination of good public transport and two main roads crossing through the area and forming a loop make travel simple. Getting there by car is even easier – from Krakow, take road E 40 and head east; after Brzesko turn right and continue along road 75. In Nowy Sacz, choose either the 75 for Krynica, Muszyna, Tylicz or Powroznik, or the 87 for Rytro or Piwniczna.