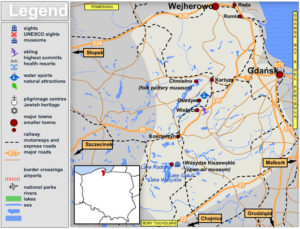 Situated in the north of Poland, the Kashubian Lakeland is a hilly region dotted with upwards of 700 lakes. Tiny villages where the time seems to stand still and small towns with rich histories can be found tucked away in a rolling countryside of woods and fields. Actually, there are very few places in Europe where it is possible to find such beautiful nature in such a small area. There are four countryside parks in Kashubia and 50 nature reserves conserving endangered species and habitats.
While Poland is essentially a monolingual nation, the inhabitants of the Kashubia region still speak their own language, Kashubi. Traditionally, the area is renowned for producing pottery and porcelain, and local people still cultivate some old customs and rituals (e.g. snuff taking, local cuisine). You can visit one of a number of festivals and fairs that are held throughout the year, featuring regional dances, music and colourful costumes.
HOW TO GET THERE 
The best way to get to Kashubia is to fly to Gdansk (Gdansk Lech Walesa Airport in Rebiechowo). From the terminal, you can catch a bus to Kartuzy, the largest town in the region. The short 30 km ride takes about an hour. By car, take the E75, then change to road no. 7 and continue on until Zukowo. Leaving the town, take road no 211 and this will take you to Kartuzy. Another popular location in Kashubia is Wdzydze Kiszewskie. To get there from Gdansk, take a bus to Koscierzyna and there change to the bus to Wdzydze. During the summer, there are direct bus connections from Gdansk to Wdzydze Kiszewskie.