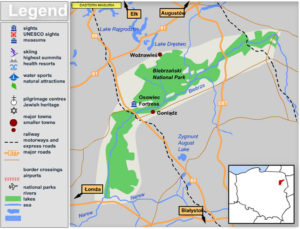 The Biebrza Valley is located in the north-eastern corner of Poland, in the Podlaskie Voivodship. The Biebrza is a natural, meandering lowland river and is one of few such rivers in Europe. In 1993 the Biebrza National Park (the largest in Poland) was created in order to preserve the Biebrza marshes and peatlands, as similar are rarely to be found in today's Europe. In addition to the fascinating vegetation, the park stands out as being home to a diverse animal population, especially for different species of water birds. Another unique characteristic is the wide variety of open meadow habitats. The Biebrza National Park has been recognised as a wetland site of international importance and rightfully enjoys the protection of the RAMSAR Convention.
As far as the accommodation in the area is concerned, there are several hotels, three camp sites (Osowiec, Barwiki and Grzedy), and a number of forest lodges and rural agrotourism farms.
HOW TO GET THERE 
Unfortunately, there are no airports in the immediate vicinity to the Biebrza National Park. One option is to fly to Warsaw's International Okecie Airport and then travel by either train or bus to Bialystok, located 190 km from Warsaw, or to rent a car. The entrance to the Biebrza National Park is in the small town of Goniadz, located in the centre of the Podlaskie Voivodship. Goniadz can be reached by bus from Bialystok (there are also bus connections from Lomza, Monki and Grajewo). If you are coming from Bialystok by car, you should drive through Dobrzyniewo Duze, Knyszyn, Monki and Osowiec. The distance between Bialystok and Goniadz is some 50 km.