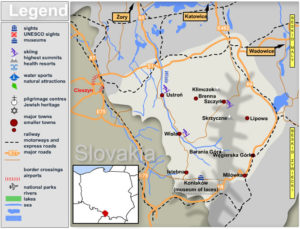 Beskid Slaski, spread out between the towns of Cieszyn, Bielsko-Biala and Zywiec Dale, is the most western part of the Beskid area. The south-western part is within the Czech Republic and Slovakia. With well-developed tourist amenities, including many walking trails, mountain hostels and the ever-popular holiday resorts, lure visitors all year round. The area is particularly attractive during the winter months, when the steep slopes of the Beskid Slaski are covered with thick snow providing excellent, if demanding, conditions for downhill skiing. The highest summit of this range is Skrzyczne (1257 m).
Aside from Szczyrk, the unofficial capital of the region, there are also the attractive resorts of Wisla and Ustron, and some smaller ones like Istebna and Brenna. Although the mountains are not as wild and remote as the Beskid Niski or Wyspowy, the region has its own original folk culture – visit Istebna or Milowka to explore it.
HOW TO GET TO BESKID SLASKI 
By car, the easiest way to get there is from Katowice (through Skoczow and Ustron) or from Tychy via Bielsko-Biala (and then to Szczyrk and Wisla). From Bielsko-Biala, take road 942 or road 1 and once in Narbutowice turn onto the 941. The chief holiday destination of Szczyrk has frequent bus connections with Bielsko-Biala. By train there are regular services for Wisla and Ustron from Warsaw, Bielsko-Biala, and Katowice.