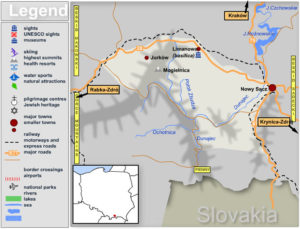 Although attractive and undoubtedly worthy of attention, the Beskid Wyspowy is a mountainous area off the beaten track. It takes its name (Wyspowy or "Island") from the separated, steep-sided mountains that are a characteristic feature of the landscape. Tourist facilities are rather weakly developed, with only just a single mountain hostel on Mt Lubon Wielki. However, the area is great for anyone wanting to spend time away from hordes of visitors – it is ideal place to pick berries and mushrooms, or simply to enjoy the peace and silence.
The Beskid Wyspowy is situated between the Beskid Makowski to the west and the Dunajec Valley to the east. On the southern side it is bordered by the Gorce Mountains and Sadecka Dale. The main villages to stay in are Mszana Dolna, Szymbark, Dobra, and Limanowa.
HOW TO GET THERE 
It is relatively easy to get there from Krakow, Zakopane, Nowy Sacz or Tarnow. The biggest place in the region, Limanowa, has rail connections with Chabowka, Mszana Dolna and Rabka. There is also an old retro-train between Nowy Sacz and Chabowka, through Mszana Dolna, Skrzydlna, Dobra, Tymbark and Limanowa. Of course, the easiest way to get there is by car – most places lie in the vicinity of road 28 – if you are coming from Krakow take the E77 south until Skomielna Biala, where you should change to road 28 (left).