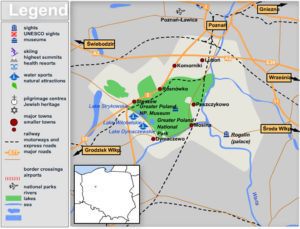 Situated some 10-12 km south-west of Poznan, the Greater Poland National Park is an ideal place for a one-day trip when visiting Poznan. The landscape is variegated, with ten lakes, many forests and marshes, seething with rich flora and fauna. The area was formed some 11 thousand years ago by glacier action, which left moraines, kames, eskers and drumlins.
The many hiking trails give plenty of opportunities to admire the old pines, oaks and hornbeams surrounding the local lakes. Among the most interesting creatures in this area are the stag beetles, grey herons and elks, and, among the plants, is the carnivorous sundew. Some areas of the park are protected as strict reserves.
HOW TO GET TO THE GREATER POLAND NATIONAL PARK
Greater Poland National Park is located very close to Poznan, one of the biggest cities in Poland and which is well-connected with other main cities, such as Warsaw, Krakow, Gdansk and Wroclaw. It is also not far from Berlin, only some 250 km to the east, and there is also an international airport (Lawica). To explore Greater Poland National Park, we recommend you start in Puszczykowo, a popular resort town, Mosina or even Steszew, which you can get to by train. Trains depart from Poznan main railway station, or you can also go by car, taking the E261 or 430.