Beskid Maly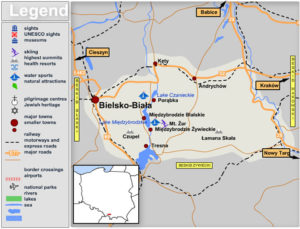 The Beskid Maly, the northernmost of all the ranges of the Beskidy Mountains, lie on the border between the Lesser Poland and Silesian Voivodships and is surrounded by the Beskid Slaski, Beskid Zywiecki and Beskid Makowski mountain ranges. The River Sola, with its three artificial lakes, divides it into its western and eastern parts.
This massif of the Beskidy is called "Small Beskid" in English, as none of the mountains exceeds 950 m. The highest summits are Czupel (933 m), Madohora (or Lamana Skala – 929 m) and Leskowiec (922 m). The mild slopes are usually well forested, but there are also several places where you can enjoy some excellent panoramas, especially from Mt Zar, Jaworzyna and Magura Wilkowicka, as well as many other summits. Moderately well developed in terms of tourism, the Beskid Maly offers many hiking trails, although mountain hostels are a bit thin on the ground. A good starting point to explore the Beskid Maly is Bielsko-Biala, a town interesting in itself with many historical sights and recreational attractions.
HOW TO GET TO BESKID MALY 
The Beskid Maly Mountains lie between Bielsko-Biala in the west, and Wadowice and Sucha Beskidzka in the east. Bielsko-Biala has good access to the area, it is the closest big town in the neighbourhood, and it is easy to get to from Krakow via the Krakow–Bielsko-Biala–Cieszyn road. Bielsko-Biala is also easy accessible by train, as there are connections with Krakow, Warsaw, Katowice, Zakopane and many other Polish towns. The nearest airports are Krakow-Balice and Katowice-Pyrzowice.
Recommended hotels in Beskid Maly
A LIST OF HOLIDAY DESTINATIONS IN POLAND