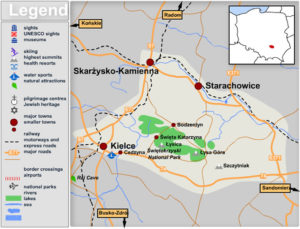 Swietokrzyskie Mountains, the oldest in Poland and Europe, are located in the centre of the country, encircling the city of Kielce. Their slopes are thickly forested, mainly with beech and fir. The highest part of the range is called Lysogory, with the highest summits of Lysica (612 m) and Lysa (595 m). Swietokrzyskie means "Holy Cross" and the use of this name derives from that of an old Benedictine abbey located on Lysa Mountain. In earlier times, the higher summits of Swietokrzyskie Mountains were places of pagan worship.
The year 1950 saw the establishment of the Swietokrzyski National Park, which was to include almost all of the Swietokrzyskie Mountains. These days, as many as 187 species of animals and 49 species of plants in the Park are protected by law. The great oddity of the park is the so-called goloborze, large areas of rock rubble from the Cambrium period that are mostly destitute of vegetation. Apart from nature's natural attractions, the mountainous Swietokrzyskie region has an impressive concentration of valuable sacral architecture.
HOW TO GET TO HOLY CROSS MOUNTAINS
Visitors have a choice of three international airports (Warsaw, Krakow, and Katowice) with direct access to Kielce, the main city of the region. The airport in Warsaw is 180 km away, the one in Krakow is 120 km while Katowice's is 145 km. Each has a direct rail link, the journey from Warsaw takes approximately 3 hours, from Krakow it is approximately 2 hours and from Katowice it is some 3 hours. Another alternative is to take a bus from a number of European cities.